Unusually, Ferrari has been dogged with leaks for the brand new performance version of the Ferrari 488 GTB. It's named the Pista this time and has been described as the most powerful V8 in Ferrari's history. The Ferrari 488 Pista continues where the 360 Challenge Stradale, 430 Scuderia and 458 Speciale left off. Rather than recycling a name from its historic back catalogue, the Pista carries entirely new nomenclature.
The performance evolutions of Ferrari's V8 models are always highly sought-after by performance enthusiasts. They carry sublime handling and ultimate performance, often in a fairly accessible package. The Ferrari 488 Pista carries on this tradition, building upon development carries out through Ferrari's involvement with the FIA World Endurance Championship. Incidentally, the Ferrari press release makes very little mention of Ferrari's Formula 1 program…
As you would expect, extensive weight saving is key to the Ferrari 488 Pista's formula. It sheds an impressive 90 kg for a total dry weight of 1,280 kg. Combined with a power boost of 50 hp the Pista puts out a total figure of 720 hp from it's 3.9 litre V8 engine. This helps the 488 achieve a 0 to 100 km/h sprint of just 2.85 seconds and a 200 km/h sprint of just 7.6 seconds.
Aerodynamics are also an important part of the Pista's genetics. At the front, Ferrari have worked an S-Duct into the nose with a redesigned front diffuser channeling air to create higher levels of downforce. There is a rear blown spoiler which is higher and longer than the standard 488. Overall, the Pista realises a 20% increase in downforce.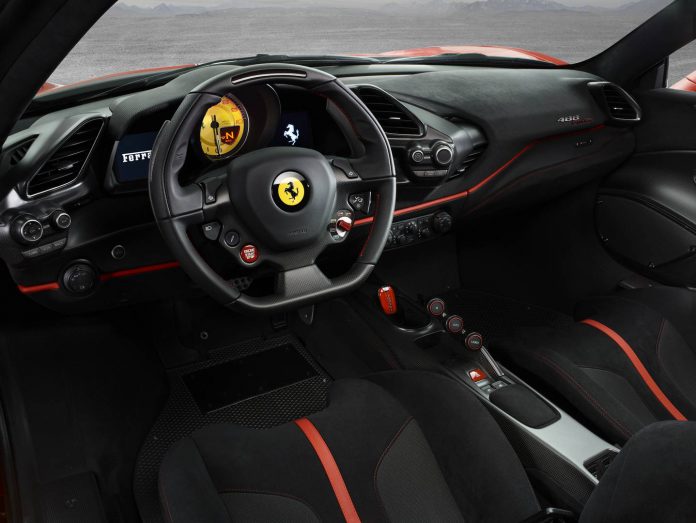 A variant of technological highlights help to cement the performance of the 488 Pista. Version 6 of the Side-Slip Angle Control system has been installed, incorporating E-Diff3, F1-Trac and the magnetorheological suspension (SCM). A new system also debuts called the Ferrari Dynamic Enhancer. The FDE uses software to adjust the brake pressure at the callipers.
Finally, in launch spec, the Ferrari 488 Pista gets a racing livery colour scheme not dissimilar to the 458 Speciale that came before it. Pricing and availability are yet to be announced. The car should be officially unveiled to the public in two weeks time at the Geneva Motor Show 2018.