MSO recently released an incredibly exciting McLaren 570S project. Just 10 copies of the MSO X McLaren 570S will be offered, kitted out as bespoke models by McLaren Special Operations. Essentially, they are road-legal versions of the McLaren 570S GT4!
The McLaren 570S has been an incredibly successful model for the British brand. A McLaren at a lower price bracket, it has opened the brand to a whole new audience. Last year it announced that it would offer a GT4 version of the 570S for the first time which is evidently what has inspired McLaren Newport Beach to commission this unique one-off production run.
All 10 cars will feature the high downforce rear wing which provides an additional 100 kg of downforce. A goose neck carbon fibre roof intake enhances induction airflow, a front dive plane gives it that racing look and a GT4-style bonnet gets unique air intakes. An MSO titanium super sports exhaust and Pirelli P Zero Corsa tyres finish the look.
The MSO X McLaren 570S also gets a bespoke track-biased interior. The Monocell 2 chassis is exposed in places with carbon shell bucket seats, carbon sill panels and a carbon fibre bulkhead releasing GT4 vibes. The central tunnel storage bin has been removed and a colour matched harness bar holds the 6-point racing harness. Conversely, McLaren have retained the parking sensors, rear view camera, vehicle lift and rear view cameras.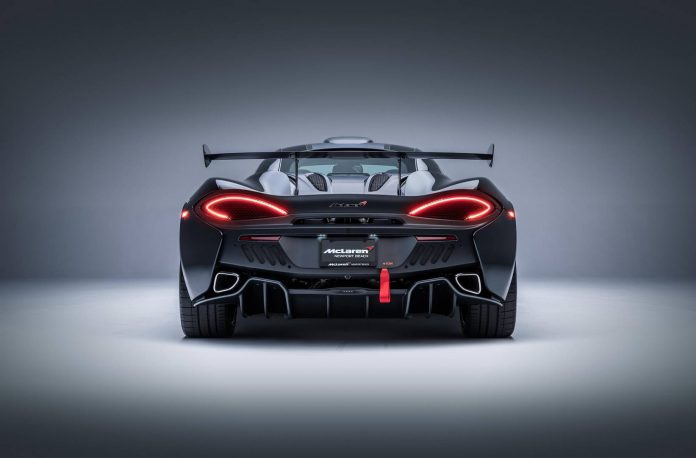 On the outside, all 10 cars will feature exterior colour schemes that echo McLaren endurance racing's most recognisable liveries. The cars were delivered to their new owners at a special McLaren event near Las Vegas a few weeks ago – the culmination of 8 months worth of work!
The cars shown in the photos are number 08 which is inspired by the F1 GTR Longtail chassis number 26R. The second car is number 10, finished in Ueno Grey with Black Accents, inspired by F1 GTR chassis number 01R, which finished 1st at the 24 Hours of Le Mans in 1997!