Ferrari is in the midst of modernising their line up with the 488 GTB, the GTC4Lusso, and 812 Superfast being the future of the company's catalogue. Now Ferrari has pulled the wraps off their California T replacement: the Ferrari Portofino. Named after a small Italian fishing village, the Maranello based manufacturer decided to stay closer to its roots when designating a name for their entry level supercar. It is a big move for the company to enforce a design similar to the controversial 812 Superfast, released earlier this year at the Geneva Motorshow. Not only is the styling a point of discussion, but the entire nature of the California T, and now the Portofino, was different from Ferrari's earliest ambitions. The Portofino like the California T has a smaller price tag to attract a larger market segment that also includes women.
The drop-top supercar is undoubtedly still a Ferrari, and has the specs to back it up. Under the hood sits a 3.9-litre turbocharged V8 engine from the 488 GTB, producing 592hp – 40 more than the California T. Maximum torque is 760 Nm, available from 3000 to 5250 rpm. This all is enough for the Portofino to do the 0-100km/h sprint in 3.5 seconds, topping out at around 320km/h. With these times, the Portofino is the most powerful convertible to combine the advantages of a retractable hard top, a roomy boot and generous cockpit space plus two rear seats suitable for short trips
The Portofino's all-new chassis features a significant weight saving over the California T it replaces. Thanks to the extensive use of modern production technologies, all the chassis and body-in-white components have been redesigned with a consequent reduction in weight despite an increase in torsional rigidity. Nevertheless, the Portofino is unlikely to see the same sportive as for example the 488 or 812, meaning it'll hardly ever roll onto a track. Instead the car is geared towards a comfortable cruiser that you take to go shopping or short distance trips. On that account, Ferrari refreshed the ergonomics of the car, including a large central touch screen, and a roomy interior.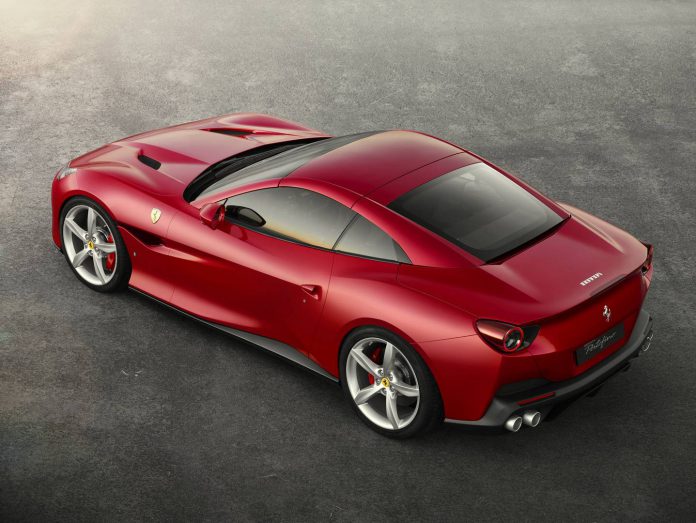 The Ferrari Portofino will make its world debut at the Frankfurt International Motor Show in September. At this point, more information regarding its pricing and availability will become known. Stay tuned for our full review of the Portofino!