RUF always manage something interesting for the Geneva Motor Show 2017. This year is no different with a brand new 710 hp RUF CTR, based upon a 1987 Porsche 911. RUF have retro-modded the classic Porsche to create something very special. It pays homage to RUF's 1987 CTR Yellow Bird having taken 5 years of development.
The 2017 RUF CTR is the first RUF car engineered and designed by RUF. It also incorporates the first rear-engine carbon fiber monocoque chassis. Under the rear hatch sits a twin-turbocharged 3.6 litre flat-six engine generating 710 hp and 880 Nm of torque. The RUF engine uses a dry-sump lubrication system to provide constant oil supply and pressure.
Power is routed to the rear wheels through a six-speed manual gearbox and a limited slip differential. It manages a zero to 100 km/h sprint time of just 3.5 seconds and a 200 km/h in just under 9 seconds.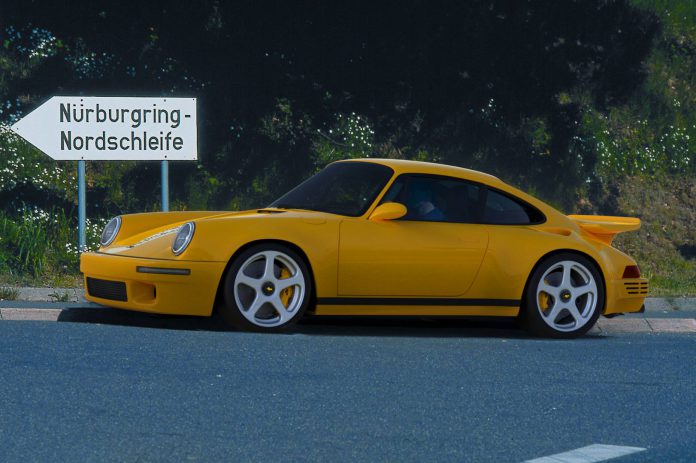 The RUF CTR is also special for being the first RUF sports car to be based on a chassis completely of the firm's own design. The front crash structure is built form steel with an integrated roll cage. The suspension components include double-wishbone suspension arms in a pushrod configuration for both the front and rear axles.
The complete package gets a dry weight of just 1,200 kg. The bodywork is now also formed in carbon fibre but with classic Yellow Bird looks.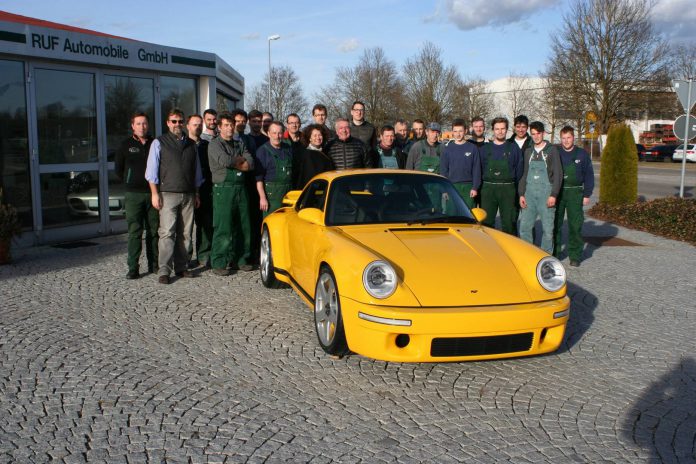 RUF have fitted set of center-locking 19-inch forged alloy wheels with tires measuring 245/35ZR19 in the front and 305/30ZR19 in the rear. The rims hide a set of perforated carbon cermamic brake discs measuring 380 mm at the front and 250 mm at the rear. They are clamped by a set of six-piston fixed callipers at the front and four-piston calipers at the rear.
Inside, things are minimalist. The CTR is a pure two-seater with lightweight materials throughout. Alcantara is the main surface together with leather and carbon fibre. RUF have tried to maintain a retro look despite having carbon fiber seats and aluminium pedals. A three-spoke steering wheel and analog dial-type gauges help keep the retro look.
Production will being in 2018 at RUF's Pfaffenhausen, Germany. Just 30 will be made available plus the prototype model.