Bentley called together their in-house design and bespoke creation division Mulliner for another exquisite series of their flagship Bentley Mulsanne. Meet the Bentley Mulsanne Hallmark Series by Mulliner, limited to only fifty models and the ultimate statement of luxury from Bentley's flagship model.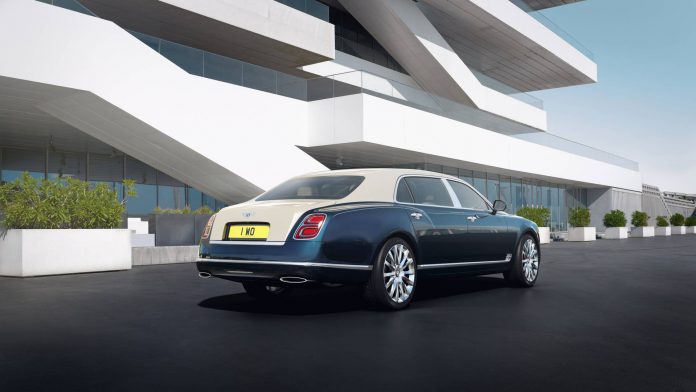 The series is said to be inspired by "the finest precious metals and luxury materials used by the very best jewelers." As a result, silver and gold versions of the fifty-model series will become available to customers.
Some of the most exquisite details of the Mulsanne Hallmark Series comprise a hallmarked silver or carat-gold-plated "Flying B" mascot, a line running the length of the car's body to match, silver or gold metallic hide lining the storage compartments, color-matching veneer and a precious metal veneer inlay.
The exterior can be finished in single tone, or two-tone as portrayed by the show car in the photos. Further highlights of the exterior include the massive 21-inch polished alloy wheels and a distinct Mulliner grille. The Serenity grille is optional.
The inside of the luxury coach impresses with the front and rear seats trimmed in contrasting hides and exclusive silver or gold embroidery, stitching and piping throughout the interior. Besides the luxury upholstery and leather, the Hallmark Series come with fancy features such as Alcantara rear cushions matching the secondary hide, city umbrellas, illuminated door sills featuring model-specific numbers and an optional Mulliner cocktail cabinet.
Bentley Mulsanne Hallmark Series by Mulliner