Porsche tuner Techart is enriching its presence at this year's Geneva Motor Show with the new Techart 718 Cayman. Techart designed a complete custom aerokit for both the Porsche 718 Cayman and 718 Boxster models and also has something in store for the engine.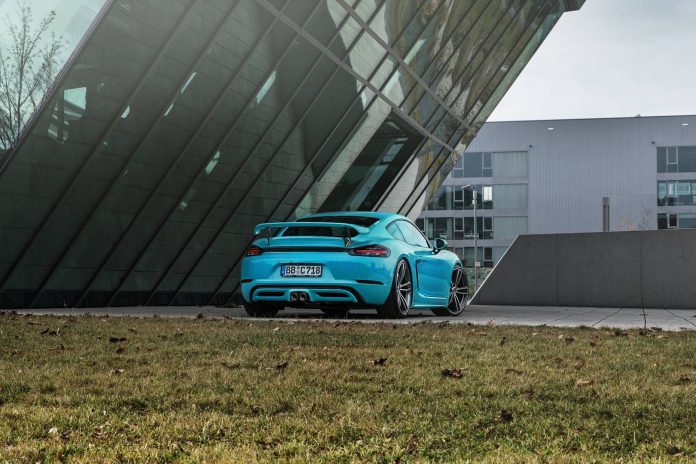 The front apron of the 718 Cayman gets optically extended by a subtle two-piece Techart front spoiler with integrated front splitter. An integrated central air outlet reduces aerodynamic lift, which is available in black PU-RIM or carbon fiber. Other details show the addition of curved air intake fins on the car's lateral air intakes.
At the rear the Techart 718 Cayman impresses with a rear diffuser that is painted to match. Another unmistakable addition to the show car is the large fixed rear wing. Customers who would rather have something else can opt for the prominent rear spoiler 'II', which is designed with black anodized aluminum uprights.
Techart lowered the chassis of the car by 30 mm and fitted the show car with 21-inch light weight Formula IV alloy wheels. Progressive Techart sports springs improve handling on the road even further. The set of custom wheels is available for both the 718 Cayman and Boxster models, and can be finished in individually matched custom colors.
TechArt 718 Cayman Performance
There are plenty of changes under the bonnet as well, where the Techart powerkit stands for even more low-end-torque. Even at 2,800 rpm, the 2.5-liter flat-four engine with Techart Techtronic distributes 480 Nm of torque to the car's rear wheels, which is an increase of 60 Nm over the conventional model. Available for the 718 Cayman S and Boxster S models only, the powerkit will add an extra of 50 hp (37 kW) on top of the torque increase. This brings the total output to 400 hp and 480 Nm of torque, good for a 0-100 km/h acceleration in just 3.9 seconds, which is as fast as a Porsche 911 Carrera S.
The top speed of the Techart 718 Cayman is now set at 296 km/h, which is faster than the original 285 km/h. Optionally Techart will fit your Cayman or Boxster with their racing exhaust system, which creates an even more harder edged sound. It comes with two titanium tailpipes boasting carbon fiber tips, although the custom exhaust system can also be installed using the factory pipes.
Techart's in-house saddlery stands ready to incorporate the wishes of customers when it comes to the car's interior. Options include the illuminated Techart logo in the door sills, and a full leather interior of any kind with custom upholstery, decorative stitching and a range of carbon fiber inserts and elements.