Meet the latest member of the Koenigsegg Agera RS family: the Koenigsegg Agera RS 'Gryphon'. The Gryphon is a bespoke iteration of the iconic Agera RS and is named after its mythical namesake, a creature with the body and rear legs of a lion and the head, wings and front talons of an eagle.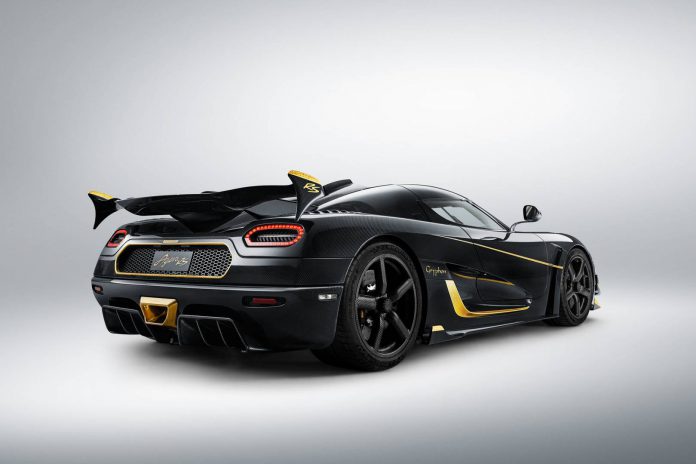 The Gryphon is the heraldic symbol used on the provincial flag of the 'Skåne' region in Sweden, where the Koenigsegg factory is located. The bespoke Agera RS boasts a clear carbon exterior with 24-carat gold gold leaf highlights. The precious material is reflected in all external striping and badging, as well as the car's hood struts.
Step inside and you'll find yourself in Alcantara heaven, complemented by polished carbon fiber and black anodized aluminum. The 24-carat gold leaf reappears in the interior as well in the form of several highlights. A bespoke Gryphon motif shines on the head rests, while another image of the mystical creature is stitched into the Alcantara dashboard. The seven-figure hypercar comes with a matching racing helmet in carbon fiber and gold leaf finish, handmade by Italian master craftsman Ettore Callegaro at the Koenigsegg factory in Ängelholm.
The Koenigsegg Agera RS Gryphon packs the optional 1 MW engine, which squeezes a staggering 1360 hp out of the twin-turbocharged V8 engine. With a curb weight of just 1,395 kg, the Agera RS Gryphon comes very close to the magical 1:1 power-to-weight ratio, which has so far only been achieved by the Koenigsegg One:1.
Koenigsegg Agera RS Gryphon