Alongside the new Alpina B4 S Bi-Turbo, the German BMW tuner will show their new 2017 BMW Alpina B3 S Bi-Turbo at the 2017 Geneva Motor Show. The Alpina B3 S Bi-Turbo more or less received the same treatment as the B4, which includes a revised turbocharger setup and an updated cooling system.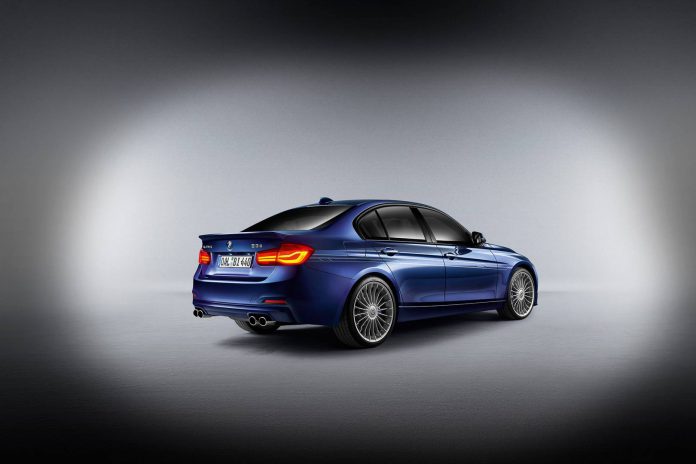 Incorporating two new Alpina turbochargers and an updated cooling system lifts the output of the 3.0-liter straight-six to 440 hp (324 kW) and 660 Nm of torque. The performance upgrade translates to a 0-100 km/h acceleration of just 4.3 seconds and an increased top speed of 306 km/h. The 3 Series based Alpina also features the same revamped 8-speed automatic transmission with ALPINA SWITCH-TRONIC.
The Alpina B3 S impresses on the outside with the classic 20-inch ALPINA CLASSIC wheels and the addition of subtle aerodynamic components that further underline the car's sporty character. These include a front- and rear spoiler and subtle side skirts. Finally the extended rear apron houses the two new twin-tailpipes that are linked to the custom stainless steel exhaust system.
The Alpina B3 S is available with the standard RWD setup as well as the optional xDrive AWD setup. With all-wheel drive, the Alpina rushes to 100 km/h in a mere 4 seconds, but the heavier setup means it will top out at a slightly slower 301 km/h. The carefully calibrated automatic transmission has been developed in collaboration with its original creator, ZF. The extensive development and adaptation of the custom gearbox now perfectly harmonizes with the car's increased performance.
2017 BMW Alpina B3 S Bi-Turbo
Improving handling in conjunction with the car's increased performance is Alpina's optional adaptive sports suspension. It comes with electronically adjustable dampers, performance springs, bump stops and stabilizers.
When it comes to the car's interior there are few wishes the Alpina in-house upholstery experts cannot fulfill. From the car's paintwork to the kind of interior trim and leather upholstery, Alpina offers an extensive range of options. The steering wheel is clothed in LAVALINA leather as standard and bears the Alpina logo.