ABT Sportsline is on a roll and is going all out during this year's Geneva Motor Show. Meet of the latest members of the family, the 2017 ABT Audi SQ7.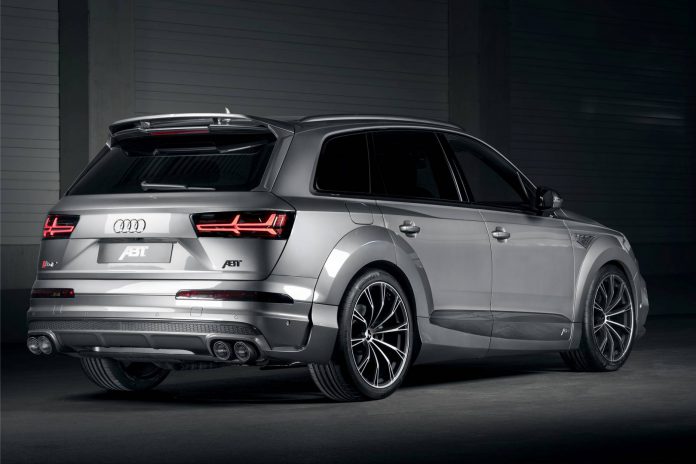 Based on the Audi SQ7 which was launched last summer, the immensely powerful V8 diesel with two turbos and an EPC (electronically powered compressor) gave the engineering team at ABT plenty to play with. In factory condition, the SQ7 is already quite capable with an output of 435 hp and a staggering 900 Nm of torque. ABT managed to raise these standards even more by adding an extra 85 hp (62 kW) and 70 Nm of torque, bringing the total to 520 hp and 970 Nm of torque!
In order to maintain control of this true powerhouse, ABT provides customers with the option to lower the ride height by 20 mm at the push of a button for better cornering and handling.
In terms of aesthetics ABT offers customers a range of aerodynamic upgrades, the best of which shine on the ABT SQ7 show car. The fitted wide design aero package comprises a front skirt, fender extensions, rear skirt add-ons, a rear wing, fender inserts and door strip attachments. There is plenty of visual carbon fiber too, for example reflected by the front skirt add-on, door strip attachments and the car's front grille frame. More carbon fiber can be expressed through optional tailpipe tips and the large 22-inch ABT Sport GR matte black wheels.
Changes that are available for the inside of the massive SUV include integrated entrance lighting, custom trunk and floor mats and complete interior packages. An example of the latter is the ABT individual leather interior which combines some of the finest materials and embroidery of the ABT logo. A second package is the ABT individual carbon interior, which brings a more racing inspired atmosphere to the car's cockpit.