Daytona this weekend saw a huge amount of action for Ferrari customers. Aside from being the Ferrari World Finals, Ferrari also put on a top class display with the high profile auction of the 500th LaFerrari and released the latest contender in its one-part series; the Ferrari 488 Challenge.
The Ferrari 488 Challenge becomes the first turbocharged model to race in Ferrari's events. It is powered by the same 3.9 litre V8 engine which powers the road car with 660 hp. It is a second quicker at Fiorano than the Ferrari 458 Challenge Evo, setting a new record of 1 minute 15.5 seconds.
The Ferrari 488 Challenge is the sixth model to compete in the series. It gets a powertrain optimised for racing performance. Eninge mapping and shorter gear ratios make the car more responsive. Variable torque management is modified and the transmission feature s a new shift strategy.
The Ferrari 488 Challenge also features Ferrari's patented Slip Slip Control (SSC) software and is integrated into the vehicle electronic dynamic controls. The driver has use of three manettinos, one for braking, the other two for traction control and electronic differential.
In terms of aerodynamics, the front radiator layout has been reworked. Ferrari have inverting the rake so that they are now inclined towards the rear. The front bumper has also been completely redesigned with a more pronounced front splitter and flicks to increase downforce and balance the rear load. There is a 7% improvement in efficiency compared to the 458 Challenge EVO.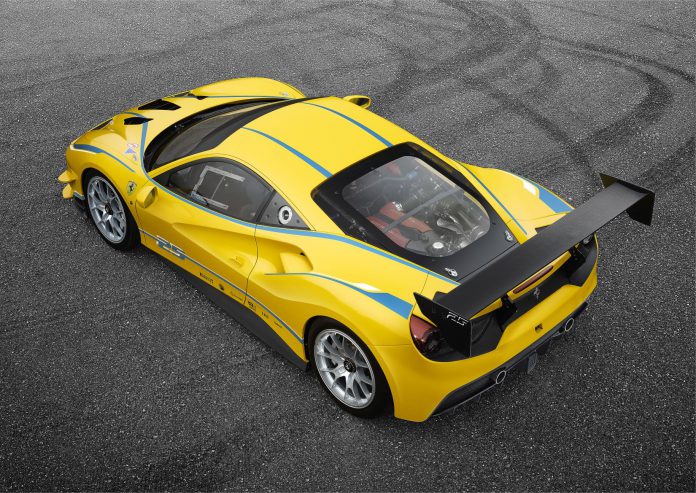 The front bonnet of the Ferrari 488 Challenge includes new triple vents and integrated flaps to direct the hot airflow from the radiators. There is a bigger rear wing, with an air foil and the intakes on the rear flanks now take cooling air to the rear brakes, optimising downforce.
The Ferrari Challenge has been running since 1992. It celebrates its 25th Anniversary next year. Over 1,000 races have taken place since with over 1,000 drivers taking part.