The Essen Motor Show 2016 (which took place last week) lead to a steady stream of tuning car news, some from companies we've not heard from in a long time! Vath Automobiltecnik are best known for their subtle performance packages for Mercedes-Benz products. Their latest package enhances the Mercedes-AMG SL 65, a car which is largely forgotten about by the tuning world!
The headline are the modest power increases achieved for the Mercedes-AMG SL 65. With what appears to be a simple ECU tune together with a water/heat exchanger and an air filter, power from the 6.0 litre bi-turbo V12 is increased from 630 hp up to 700 hp. Torque is limited from its new maximum torque value of 1.148 Nm to 1.000 Nm.
700hp Vath Mercedes-AMG SL 65
A new, derestricted top speed of 325 km/h is possible – depending on the tire choice. The cost for these upgrades runs to 6,980 Euros plus 650 Euros for installation. A valve control muffler exhaust system is also available, made of stainless steel. It offers three different sound levels adjustable via a wireless remote control. Cost for the system is 3,890 Euros and 450 Euros for installation.
The ABC sport chassis (Active Body Control) is lowered for greater visual impact. Chassis modifications cost 1,450 Euros plus 450 Euro installation costs. Wheels are 20 inch three-piece units measuring 10,0 x 20 (265/30 ZR20) at the front and 12,0 x 20 (305/25 ZR20) at the rear. Pricing adds 7.800,00 Euros as well as 250,00 Euro installation costs.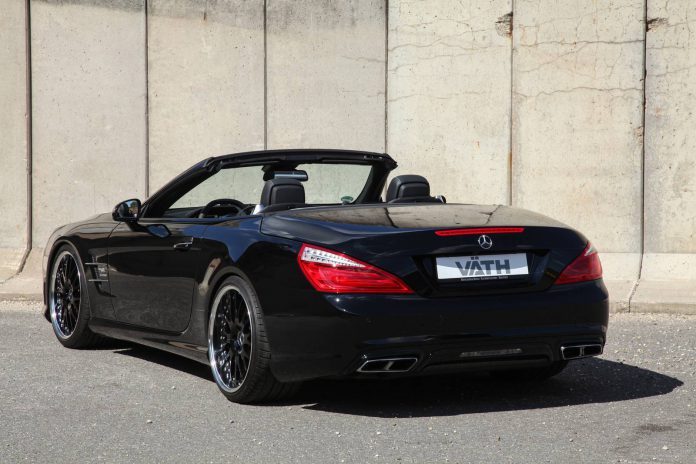 All prices include German taxes!