G-Power used to make some of the industry's craziest tuned BMW's. Things have been a little quiet of late from the Bavarian company with very few new releases. The company traditionally found fame through it's aftermarket superchargers which, running high levels of boost, were able to produce stunning power figures!
The G-Power BMW M4 Competition is a very significant car then, as G-Power hope to impress itself on the current generation of BMW M4; without the addition of a supercharger!
The G-Power package is built upon the BMW M4 Competition which leaves the factory fitted with a 3.0 litre inline V6 and 450 hp. The G-Power package adds a healthy 150 hp for peak power figures of 600 hp at 6,500 rpm, together with 190 Nm of additional torque up to 740 Nm between 4,000 and 5,500 rpm.
G-Power BMW M4 Competition Package
The power comes from a G-Power Bi-Tronic 2 V3 ECU tune costing 3,250 euros in total. Complementing this is a modification to the turbocharger (3,650 euros), G-Power downpipes with remove catalysts (1,780 euros) and a titanium exhaust system with four 90mm carbon tailpipes (5,355 euros).
Performance is boosted with a 0 to 100 km/h timed of just 3.7 seconds. For an additional 668 euros, G-Power will remove the limited for speeds of over 320 km/h. The GM4-RS coilover system is available for 2,040 euros.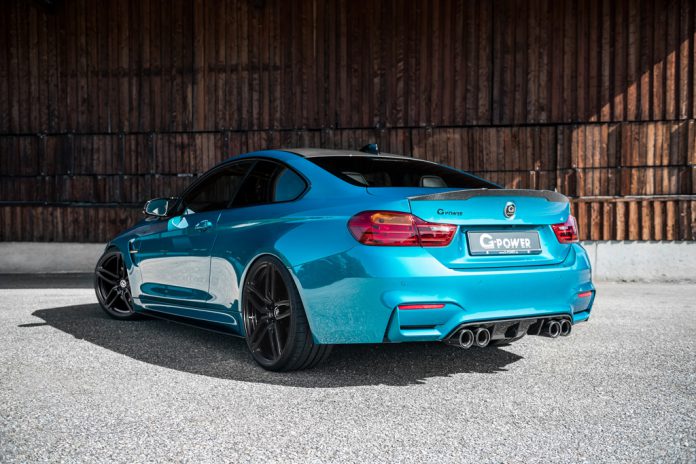 In terms of wheels, G-Power offers a classic 21-inch forged alloy wheel named the G-Power Hurricane RR with tyres measuring 255/30ZR21 at the front and 295/25ZR21 at the rear. Pricing is set at 7,645 euros with all stated prices net (i.e. without local taxes!).