AMG CEO Tobias Moers dropped a little bomb at the Paris Motor Show this year when he announced the development of the first AMG 'hypercar'. The AMG hypercar will be unveiled next year in September at the IAA Frankfurt Motor Show and celebrates AMG's 50th Anniversary.
Ever since the first announcement about the most extreme car to ever be developed in Affalterbach dozens of rumors hit the web and our inbox. During the recent LA Auto Show we had a chance to catch up with Tobias Moers and fact-check some of these rumors and discuss further details about the highly anticipated hypercar from AMG. The hypercar will be powered by a 1.6 liter V6 Mercedes-AMG F1 engine and is set out to be one of the most dynamic road legal cars money can buy.
The AMG Hypercar's Name
First reports about the AMG hypercar dubbed it the 'R50' but Tobias Moers exclusively told us that they haven't picked a name for the AMG hypercar yet. It will certainly not be called 'AMG R50'. So if you have any suggestions feel free to let us know in the comments below or via email.
Development & Delivery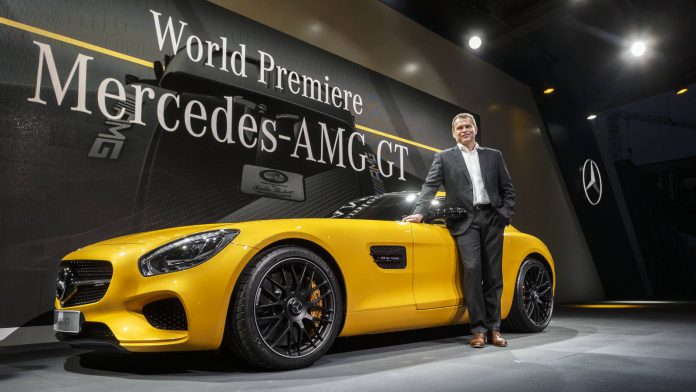 "The decision to create an AMG hypercar was made in October 2015 so we are still in a fairly early stage of development of the AMG hypercar." according to Moers. The AMG engineers at Affalterbach along with colleagues from Mercedes-Benz and the F1 team in Brixworth are currently running advanced simulations about the every aspect of the car. Leading up to the official world premiere at next year's IAA 2017 several prototypes will be developed but road testing is not scheduled until the end of next year. Slight changes in specifications and performance specs might occur as development continues.
The first customer can expect to take delivery of their AMG hypercar as early as 2019.
Price & Exclusivity
The AMG hypercar is strictly limited – exactly how many cars is not determined yet but Moers aims at between 200 and 300 cars. As it stands the number of interested customers is about to exceed this number so we can expect the full allocation to be sold rather quickly. The potential customers come from all over the world – with interest from the United States still lagging a bit behind. When asked how the production will be allocated when there is more interest than available cars Moers told us he favors a "first come, first serve" model for the allocation of the new hypercars but no decisions have been made about this at this point.
Price-wise AMG aims to sell the hypercar for just under 2 million Euro excluding taxes. In Europe that would mean it will retail for around 2.4 million euro. It will be homologated for all markets worldwide. If you are interested to get one you have to be quick, contact us for more information.