During this year's 24 Hours of Spa we were humbled to be a guest of Mercedes-AMG. We had the opportunity to get an exclusive look behind the scenes of the 24-hour racing event among a host of other priveleges. One of those was an exlusive meet and greet with several members of one of the world's most popular rock bands, Linkin Park.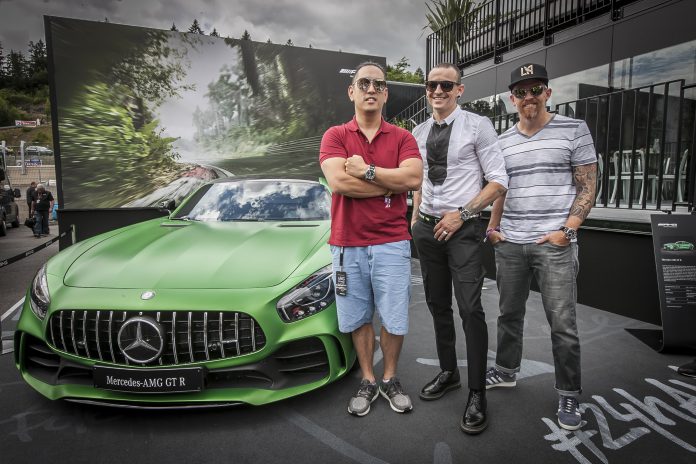 None other than lead singer Chester Bennington, turntablist and director Joe Hahn, and the band's bassist Dave Farrell made it across the pond for the occasion, and we got the opportunity to ask them a few questions about cars and their partnership with Mercedes-AMG.
In case you missed the race, the Mercedes-AMG teams were penalized after their exceptional performance during the qualification rounds in which they claimed positions one to six, and were forced to start the race all the way from the back. The race saw one of the Mercedes-AMG teams come in second, which was given the penalty at the start, a remarkable performance indeed. For more information regarding the race please make sure to visit our full report here.
Our agenda for the weekend was filled with highlights and activities, and on the starting day of the race we found ourselves in the Mercedes-AMG hospitality sitting across from the Linkin Park stars. The extremely loud GT3 cars were still in the process of warming up for the race as we got talking about cars and of course, Mercedes-AMG. Linkin Park is proud to call Mercedes-AMG one of its partners and the band was closely involved with designing one of the team Black Falcon AMG GT3 cars.
Asking what the band members drive on a daily basis, Chester answered: "Right now I am driving a Jaguar F-Type which is nice, but I think I am ready for another car. Every couple of years I change cars." Joe Hahn said: "I have been driving the GT S for a while and had the opportunity to take it out on the track. Ever since it's been a little frustrating trying to take it for a fun drive, because I am afraid to do something illegal." He further added: "We got to drive a couple of cars on ice, including the GT S, and that was truly a unique experience."
When asked about dream cars, Chester said: "Right now I am dreaming about that GT R, that thing is badass! It's a beast of a car like, no joke." About the partnership with Mercedes-AMG they had the following to say: "The most important aspect of why we are partnering up is the fact that we have very similar philosophies. Mercedes is 'the best or nothing' and the same goes for Linkin Park. AMG takes Mercedes-Benz to the next level and we have a lot in common when it comes to the expectations that we have on our product, and from that standpoint it kind of made sense that we developed a partnership over the last few years."
They added: "We have a huge following around the world, with 65 million fans we are the biggest band on Facebook and our songs have been downloaded billions of times. We have a big exposure and Mercedes is currently opening a lot of doors, I mean, the line of cars they currently have, the range is so vast that a Mercedes is no longer something that you achieve after 40 when you've become successful. Now you can get into an entry-level car, boost it up for a couple of grand and make it an AMG and 'destroy everything on the road'. Ultimately we feel our exposure and creativity can benefit the brand and we think we can develop great content together."
The partnership between Linkin Park and Mercedes-AMG started with a factory tour in Affalterbach a couple of years ago. "Ever since the partnership gradually evolved with sensible contributions from both sides and we are hoping to do some cool projects with Mercedes-AMG in the future." When asked about such projects, they answered: "Soon the 50th anniversary of AMG is coming up and we were just discussing all sorts of things that we could be collaborating on for the occasion. For now it's too soon to talk specifics but there is a long list that we will be preparing for to honor the brand's anniversary. I mean, it could be limited edition cars and other sorts of content."
So how do you integrate the AMG brand with your music? "Well with Linkin Park we create beautiful songs, but there's an aggressive element to it. There's sophistication, a lot of layers, and I feel like our music and our style of working, artistic design and structure, how we run our show and in general the extremely good quality of all the other associated factors is at the heart of Linkin Park. I think Mercedes-AMG runs their business in a similar way, excel in every aspect. You have got to be the best, there's no time to mess around and I think in that aspect we have a lot in common."
Following details about how the cooporation between the rock band and AMG came to life Chester concluded: "Look at where we are now, we got to design this amazing car and that's been a really great deal to us." When asked about the design process of the car and who was in charge, it became evident that Joe Hahn took the lead at the drawing board. Not unfamiliar territory for the DJ, as he happens to be a visual artist too after having studied at the Art Center College of Design in Pasadena, California.
"You see, AMG approached us and said, 'we want you guys to be part of this race'. 'We want you guys to have that logo spot and do whatever you want with it'. I tried a bunch of ideas and started out with the 'cool car', you know, did a lot of black and camo. But then I was like yeah.. That's actually really cool but this thing's got to really shine on the track. So I picked a 'mirror chrome' and then also red as the leading color, because red stays in your brain the longest out of any color. Further inspiration was drawn from the driver's perspective, you know breaking speed limits all the time and finally I tried to blend in some affiliation with the music we make. From there we created the Linkin Park 'DNA' and connect it to the AMG logo. Overall it's just really badass."
Hahn continued by saying: "You know we had to rework the front, because first it said 'fast as f*ck', because we're obviously going to win, but later I realized that was probably not such a good idea with 4-year old kids watching and asking their dad: 'daddy, what is fast as f*ck?' *laughs*."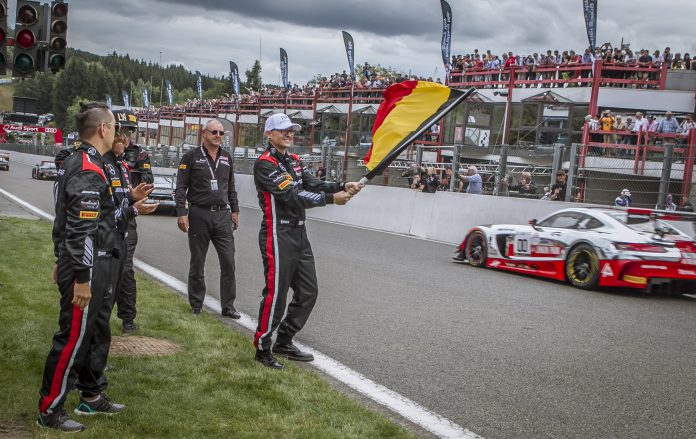 At the end of the interview the crew witnessed the start of the race and a crowded pit walk, before traveling out to the F1 at the Hockenheim Ring in Germany. They said they would return for the victory party the day after, but unfortunately, victory was claimed by BMW, with Mercedes-AMG taking an impressive second place.