As with every endurance race, there are many highlights to speak of afterwards. A lot can happen during 24 hours, and we just summed up some of the coolest events we witnessed during this year's 24 Hours of Spa. The race that annually takes place at the green 'rollercoaster' of Spa usually sets the stage for plenty of action thanks to the challenging circuit and relatively wet climate.
We however didn't 'just' show up for the race. We were blessed with an invitation by Mercedes-AMG, who presented us with a stocked agenda full of unique experiences which included driving some of their most exclusive cars to Spa and meeting some of the band members of world famous rock band Linkin Park. As part of the partnership '2 stages 1 passion' the Linkin Park crew designed the livery of one of the AMG GT3 cars and flew out to Spa to see it in person.
Mercedes-AMG at Spa Francorchamps by Niels Stolte / GTspirit.com
Before we go all out on what we've experienced this weekend, here are our definitive highlights of the eventful racing weekend at Spa Francorchamps!
7. Full tour around the AMG GT3 car and pitbox

We got a full tour of the AMG GT3 race car, the very car that already celebrated many successes during this season. The most notable success was the previous race at the Nürburgring. This historical race saw four AMG GT3 teams take the top four spots at the 24 hours of Nürburgring.
The 6.2-liter naturally aspirated V8 from Affalterbach has proven itself over the season and during the walk-around we were pointed towards several other cool features of the German racing car. Just opening and closing the door of the car gives you a solid impression of what's been done to save weight on the car. The featherlight out-of-carbon constructed doors are just mere components of the impressive carbon fiber monocoque that is at the center of AMG's weight-saving efforts.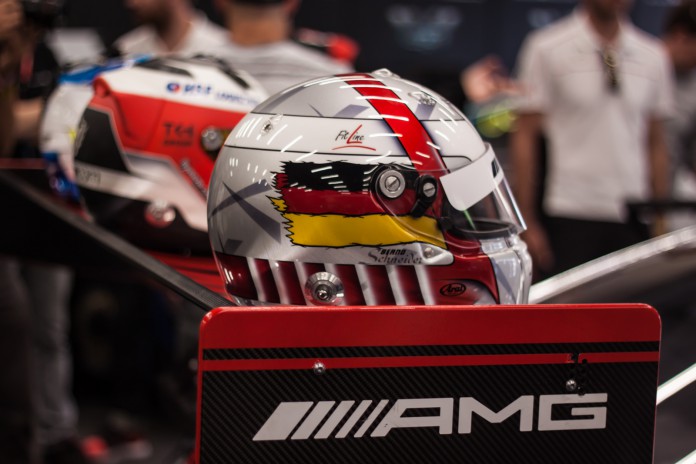 A question that has always been on my mind is how the exhausted drivers manage to drive such a constant speed when wheeling into the pit-lane. It appears there is a button for that on the steering wheel, just as there is a button that engages a waterpump that is located near the driver's left foot, so the drivers can drink without compromising on track performance. For a race car on which every single kilogram counts, it is still impressive how much technology is featured on-board!
Our tour ended with a quick peek inside the HTP Motorsport pitbox, where we witnessed a rapid pitstop and got an insight into what keeps the team busy during the race. Our behind the scenes look was followed by a tour of the AMG materials truck, a truck that plays a vital role in supporting all AMG racing teams. It is unique in a way, as it is the only manufacturer supported truck on site taking care of all the team needs. Standard procedure is teams purchasing spare parts beforehand and arranging distribution and transport themselves. AMG brings a truck filled with 3,500 spare parts and provides reparation support to all customer sports teams on-site, that can purchase any spare part right on the spot when they need it without having to worry about transport and inventory. How neat is that?
6. Memorable photoshoot in Spa with the Mercedes-AMG GTS and C63 s Coupe Edition One + Reunion with the new AMG GTR
We were fortunate enough to drive two 510 hp beasts from Frankfurt Airport to Spa and take them for an evening ride (and shoot) after the qualifying session at Spa on friday. From the iconic 'Spa Francorchamps sign' at one of the entry ways to the circuit to setting up a photoshoot in the city center of the Belgian city, it was a truly entertaining and productive evening. At one point we even ran into the AMG GTR in the wild and followed without hesitation. While the nightfall ruined our aspirations of getting any decent shots of the beast from Green Hell due to a lack of time and fitting equipment, it was awesome to witness the GTR in the wild and being granted the opportunity to take some photos.
Mercedes-AMG in Spa by Niels Stolte / GTspirit.com
5. Drinking champagne at the Les Combes curve around nightfall
As night started to fall upon the circuit, we were taken on a tour around the track and stopped for a glass of champagne at the Les Combes curve. To see the GT3 cars rush by with average speeds of 150 km/h when it's pitch black outside is a sight that we will never forget.
4. Guided tour of the Black Falcon pitbox and presentation of the Black Falcon 'Linkin Park' AMG GT3
One of the most memorable photo moments of this year's 24 Hours of Spa surely was the moment when Linkin Park members Chester Bennington, Joe Hahn and Dave Farrell put on the AMG racing gear and posed with racing drivers Yelmer Buurman, Maro Engel and Bernd Schneider in front of the 'Team 0' Linkin Park AMG GT3 car.
Linkin Park and Mercedes-AMG
3. Absolute epic finish of the 24 Hours of Spa race
Just as we were headed for the AMG lounge, very heavy rain kicked in at about 22 minutes before the end of the race. The severe rainfall was merciless to those that were halfway around and nowhere near the pitstop. Instantly many of the cars that were still driving on slicks got out of control with spectacular scenes as a result. While it must have been an absolutely devastating scenario for some of the teams that have been going at it without incident for the past 23 and a half hours, many fans can't deny it's this kind of action they appreciate during a 24 hours race.
We managed to capture it on film (see Facebook and Instagram), where the obvious loss of traction causes a Huracàn GT3 to crash into one of the AMG GT3 cars. It also shows how some drivers manage to regain control of their car and control the slide without crashing. It was BMW Rowe team's luck to have been able to put on wet tires immediately and safely maintain their first position. Akka ASP's Team 88 AMG GT3 managed to get second place, a performance to be very proud of, especially considering the questionable 5-minute penalty all AMG teams received before the start of the race.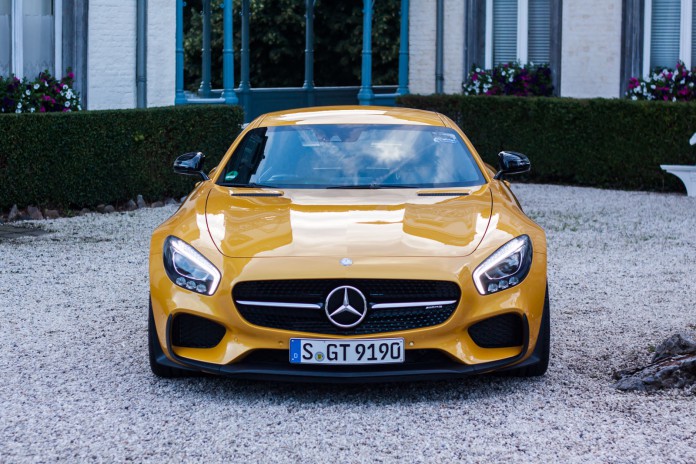 2. Meet and greet with Linkin Park
As part of the collaboration between Mercedes-AMG and rock band Linkin Park we were offered the opportunity to sit down with Linkin Park members Chester Bennington, Joe Hahn and Dave Farrell and ask them about their affinity with cars and a range of other subjects. It was quite exciting to have a talk with the rock stars on which we will publish more soon in a separate story!
1. Fantastic Roadtrip with a Mercedes-AMG GTS and Mercedes-AMG C63 s Coupe Edition One from Frankfurt to Spa
While the motorsports world is entertaining and it's great to be able to cover an endurance race right where the action is, driving experience is always something we cherish the most. Once we stepped out of the airport terminal in Frankfurt, two rather shiny AMG's drove up to us and we were given the choice between a fancy Edition One C63 s Coupe and an angry looking yellow AMG GTS.
We opted for the GTS and were soon on our way to Belgium via the gorgeous German Moselvalley. It's always a pleasure driving the 510 hp AMG supercar and especially when it has such jawdropping looks. We took it up into the many vineyards that dress the versatile Western German landscape that evolves around the Mosel river. The picturesque country roads made for an excellent warm-up for the 24 hours race, where we would arrive about 4 hours later. Both cars have been on display at the AMG paddock for the entire weekend.