Marco Wittmann has claimed the 2016 DTM championship title in a thrilling season finale at the Hockenheimring. His rival Edoardo Mortara won the final race but a fourth place finish by Wittmann was good enough to secure him the title. This is Wittmann's second title win, adding up to his 2014 victory that resulted to BMW creating a special edition M4 road car limited to 21 units. He joins Timo Schneider in the list of drivers who have won the DTM title more than once.
The battle for this year's title intensified during race 1 on Saturday when both Mortara and Wittmann fought it out in what was probably the most epic session of the season. Wittmann was on his way to claiming an early championship title but Mortara was in his way, the Audi driver finished with enough points to deny Wittmann the title win, extending the battle into race 2. Molina would then win the race but only after merely escaping from the menacing battle behind him.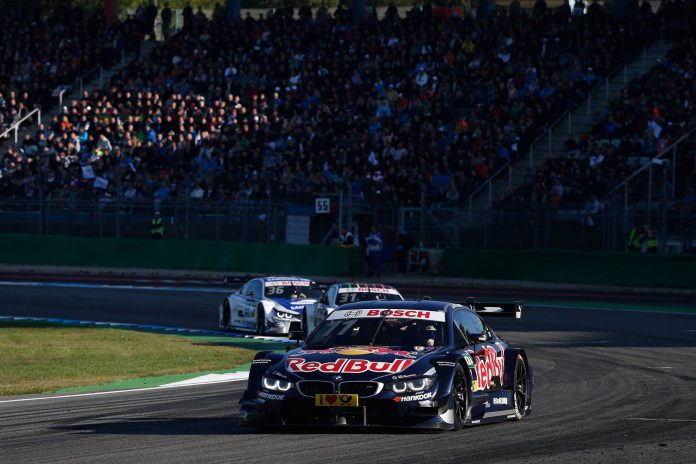 Wittmann came into race 2 with a 17 points advantage over Mortara, the BMW driver needed to finish fifth or above in order to win the title. As for Mortara, his second race was uncertain after he qualified sixth due to technical difficulties. Nonetheless, Wittmann also failed to secure a better position as he only lined up one place ahead of his rival.
Antonio Felix da Costa started from pole after qualifying fastest for both race 1 and 2, the BMW driver will be retiring this season alongside Audi driver Schneider and BMW driver Martin Tomczyk.
DTM Hockenheim - Season Finale 2016
Immediately after the start, Da Costa was quick to get away followed by the Mercedes of Gary Paffett. Wittmann managed to jump from fifth to fourth while Mortara fell back from sixth to seventh. This resulted to a "panic moment" for Mortara whose eyes were on the main title prize, it did pay off though. The Audi driver made his way through several cars before catching up with Wittmann.
There was a battle up front between Da Costa and Paffett, and while the two drivers fought it out, Mortara and Wittmann managed to get even closer. Things turned around when Paffett tapped the BMW of Da Costa, the Mercedes was handed a drive-through penalty allowing Wittmann and Mortara to take first and second respectively.
Mortara was fast, he had been faster than Wittmann throughout the whole weekend and this was no different. A lap after Wittmann sat on the lead, Mortara slid past the BMW to take the lead, and for the next 15 laps, the Audi driver built a 7s lead over the BMW.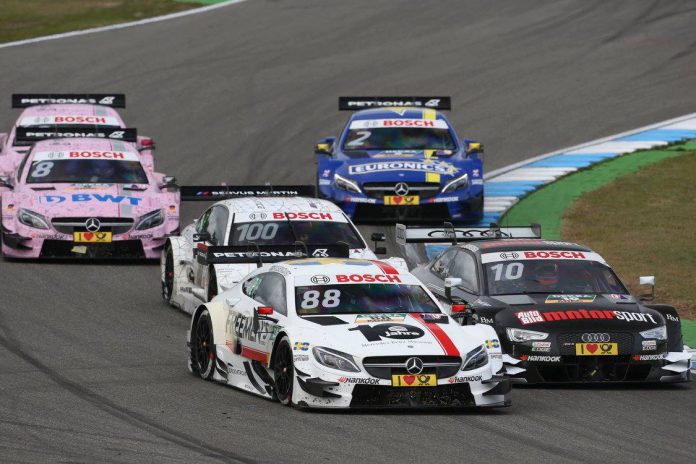 After their mandatory stops, Wittmann fell back to fifth while Mortara continued to lead the race. The BMW man would then fight back to take fourth behind Mortara, Christian Vietoris and Paul di Resta. Timo Glock completed the top five leading Maxime Martin, Tom Blomqvist, Jamie Green, Robert Wickens and Martin Tomczyk.