Mattias Ekstrom has been crowned new FIA World Rallycross champion today at the Estering RX after garnering enough points to take the title home with one more round left to go in Argentina. The Audi EKS driver missed his DTM finale race today at Hockenheim in order to compete at the Estering RX, long time Audi driver Rene Rast replaced Ekstrom in the Audi RS5 DTM car.
The decision turned out to be in Esktrom's favor as he became the second World RX champion after Petter Solberg. The latter won the first two World RX titles and became the first driver to win two different FIA championship titles, the other being in WRC. For Esktrom, the season has been on fire, in fact he scored wins in DTM and World RX in the same season. For today, he only needed to finish in fifth or better in order to secure the title, and he finished fifth.
FIA Rallycross - Estering 2016
The winner of this round was none other than Ford Fiesta RX driver Kevin Ericsson who scored his first world RX victory today. He beat all his rivals to the first corner and danced his way out of it in a stunning way, Solberg settled for second but Ekstrom fell back to sixth during that hussle.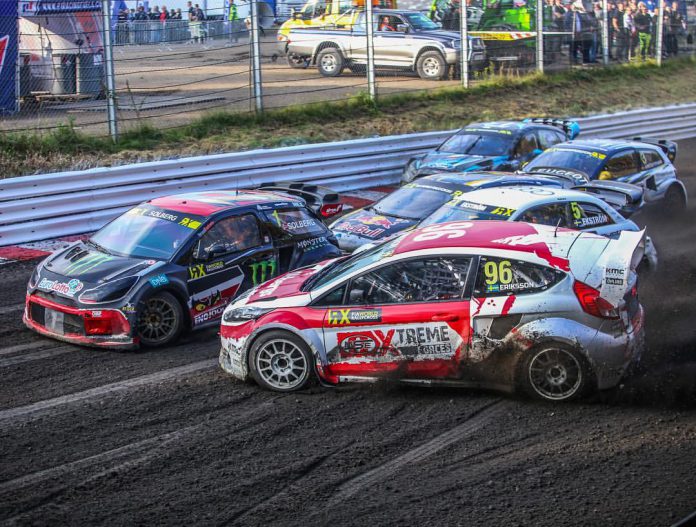 Johan Kristoffersson was another big loser in today's race, he came to Estering as a rival to Ekstrom but suffered a puncture during the final. The VW Polo RX driver fell back to the rear of the field bading his title chances goodbye. A couple of joker laps by the drivers shuffled the order of the field but Ericsson still held the lead, crossing the finish line ahead of Solberg and Andreas Bakkerud.
Kevin Hansen finished fourth for Peugeot Team Hansen leading Ekstrom and Kristofersson.
The season finale will go down in Argentina on November 25.