Photos of the new BMW 5 Series (G30) appeared on the internet today, a day ahead of the official 'grand unveiling'. At first sight the new Bimmer shows many similarities to the 7 Series at the front and all-around gets softer edges compared to the predecessor 5 Series (F10).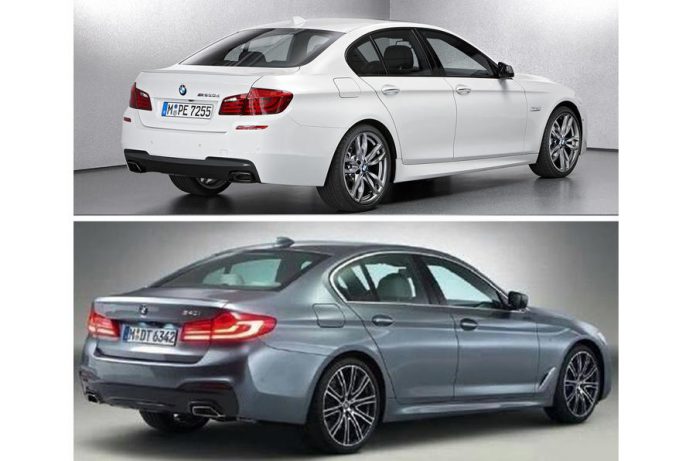 The car's slimmer lights now touch the iconic kidney-grille in the center of the front-apron, while the chrome frame of the grille seems to have gotten a stronger presence. Day-time running lights can be found incorporated with the car's enlarged front air intakes.
The car's rear was redesigned too, with the significantly larger lights jumping the eye. Here too, there is a clear resemblance to the brand's flagship 7 series. A clear difference is of course the length and the upright shape of the 5 series' rear. More design lines at the rear further emphasize the car's dynamic character with the two trapezoid tailpipes, reserved for the higher end 540i, fitting the rest of the structure nicely.
As expected, many of the top-of-the-line technologies from the 7 series have made their way to the interior of the new 5 series. It features the same mid-console with chrome elements and also borrows its bigger brother's LCD and interface.
Expect a more in-depth look at the new 5 series once more information becomes available tomorrow following the car's official debut. We expect to have an opportunity to drive the new 5 series at the end of this year.