Audi has revealed its challenger for the popular TCR International Series – the new Audi RS3 LMS which joins the R8 LMS as the entry level model in the customer racing category.
The new car was unveiled at the Paris Motor Show 2016 alongside its road-going sibling, the Audi RS3 Sedan. While the road version gets a more powerful 400hp five-cylinder turbo engine, the RS3 LMS conforms to the TCR regulations and instead gets a 2.0L four-cylinder engine delivering 330hp. The same engine is used in the Audi TT Cup car albeit with increased power output of up to 340hp.
Audi Sport will be responsible for developing the new RS3 LMS, the first customers will receive their cars starting December 2016 ahead of the next season of the TCR International Series in 2017.
The TCR International Series is a cheaper alternative to the larger FIA WTCC and ETCC. To differentiate the cars, the TC1 cars are used in WTCC, TC2 cars for ETCC while TCR cars are used in the TCR series.
Safety as seen on all Audi racing cars including the R8 LMS and RS5 DTM has been carried over to the new RS3 LMS. The safety pack comes with a FIA safety fuel tank, a racing safety cell, the PS3 safety seat, FIA safety nets on both sides of the seat and the same rescue roof-hatch found on the R8 LMS.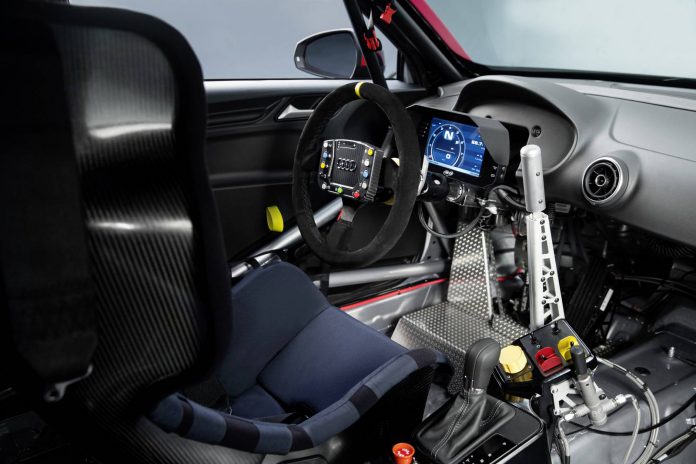 The 330hp Audi RS3 LMS has a top speed of 240km/h and a 0-100 km/h time of 4.5 seconds. Pricing starts at 99,000 euros (plus VAT) for the Club Sport version and 129,000 euros (plus VAT) for the TCR version with a sequential six-speed racing transmission.