On Friday, Aston Martin took the opportunity at Pebble Beach 2016 to announce a limited production run of the Aston Martin Vanquish Zagato Volante. The British company will produce a 99 car run to complement the Vanquish Zagato Coupe which also made its North American debut this weekend.
The Vanquish Zagato Volante harks back to the Aston Martin DB AR1 which was an American-market only model, unveiled in 2003 at the Los Angeles Motor Show. The Vanquish Zagato Volante will be available across Aston Martin's traditional markets with customer deliveries set to take place in 2017.
Aston Martin and Zagato have a highly successful history together. Few can forget the beautifully muscular Aston Martin DB4 GT Zagato race car of the 1960's. In the modern era, Zagato have also given us the DB7 Vantage Zagato and the V12 Vantage Zagato.
Aston Martin Vanquish Zagato Volante
As you would expect, the convertible shares its design characteristics with its coupe counterpart. The rear deckled gets twin cowls, a bespoke folding roof, carbon fibre sills and a muscular body shape. Crease lines are applied to the front hood and the side gills get a redesign. The round tail light reflectors use LED technology carried over from the Vulcan making this a very special car indeed!
The powertrain is Aston Martin's iconic 6.0 litre V12 engine with a power increase up to 592 bhp. Aston Martin project a 0 to 60 mph time of 3.7 seconds (0.2 seconds faster than the standard Volante) with a top speed somewhere north of 197 mph; perhaps even breaching that magical 200 mph barrier.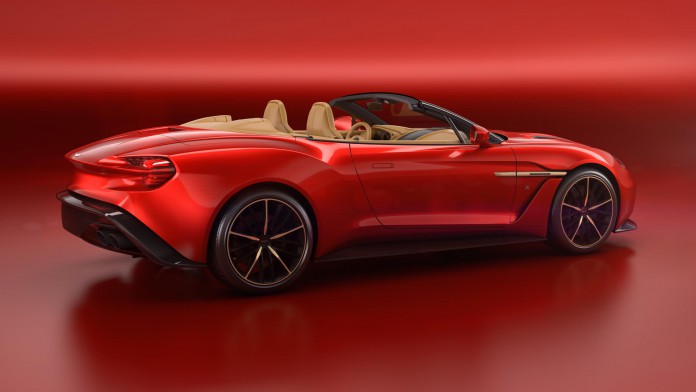 Inside, the Vanquish Zagato Volante gets touches from Aston Martin's 'Q' division. Options include herringbone carbon-fibre, anodized bronze detailing and the finest Bridge of Weir leather. Signature 'Z' quilt pattern stitching is applied to both seat and door sections and an embossed Zagato 'Z' adorns the headrests and centre console.
"Just like the Coupe, we have emphasised the way surfaces change and intersect to create a muscular form. We've endeavoured to create an elegant, flowing shape that really works to emphasise the car's sculpted rear haunches" says Aston Martin's EVP and Chief Creative Officer, Marek Reichman.
"The Vanquish Zagato Volante illustrates the ways in which Aston Martin design can evolve in collaboration with such a trusted and long-standing partner. Vanquish Zagato Volante continues Aston Martin's new century of innovation and creativity, strengthening the association between these great automotive marques in the process".