Joy – as the name suggests, this superyacht is all about positivity, happiness and a new beginning. A very special vessel not only to Feadship but also to her owners.
Launched in May this year, Joy is a 70-meter superyacht built by Dutch shipyard Feadship for first time owners. A unique opportunity that brought together Bannenberg & Rowell and Studio Indigo who were responsible for the exterior and interior design respectively. The yacht was built for first time owners, and as Feadship explains, many first time owners opt for pre-owned yachts before taking a bold step to build one, but the owners of Joy jumped straight into the building stage from scratch.
Joy is the first superyacht designed by Bannenberg & Rowell, their first showcase of exterior works since the death of Jon Bannenberg in 2002. For Studio Indigo based in London, this is their first interior design project on a Feadship yacht. The enormous space both on the outside and inside reflects the owner's wish. Joy can accommodate 12 guests across her 7 doubles and one twin cabin as well as a crew of 17 to oversee activities such as the BBQ, beach club and disco service and the onboard masseuse.
Powering Joy is a set of two MTU engines rated at 1380 kW @1800 rpm, additional propulsion power comes from three Scania DI13 074M generators rated at 323 kW each.
Explaining about the project, Joy's owner who also happens to be the youngest Feadship client said that he was inspired by the statue of Columbus, the name Joy thus reflects the feelings of Columbus the explorer when he first saw land.
The owner concluded by leaving a message to his children who were present at the launch of Joy, he said; "Today is my moment of joy as something I have long dreamt about has come to light. I hope that you will return here one day to build a 170-metre Feadship, and I look forward to being a part of the ceremony on that day!"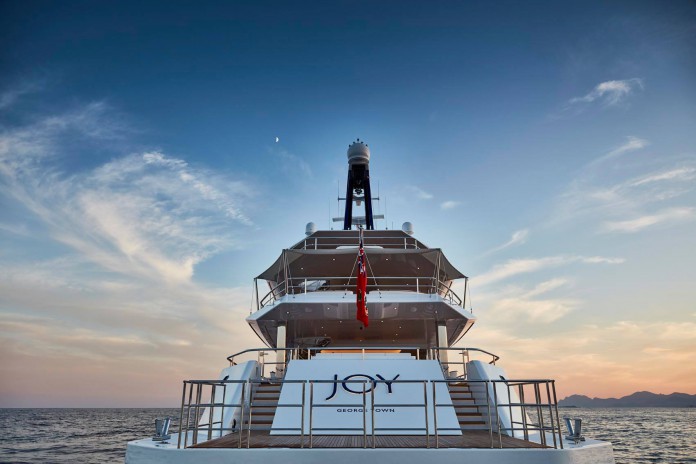 Joy is currently available for charter through Feadship's charter program, rates start at € 600,000 per week ($679K) during low season and € 700,000 per week ($792K) in the peak season.