We recently showed you the Vantage S Spitfire 80 – a car themed on the Spitfire warplane for its 80th birthday. Continuing on that theme, we now present you with the Ford "Ole Yeller" Mustang Shelby GT350, which pays tribute to a special P-51 mustang known as Ole Yeller.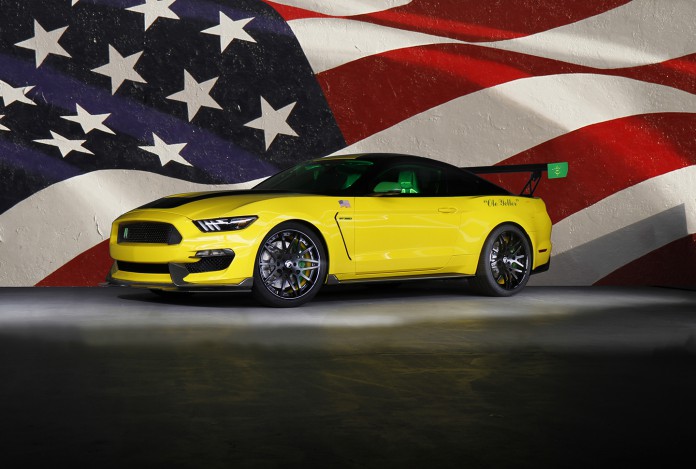 Ole Yeller is the forefather aircraft to modern day aerobatics, along with its pilot, war veteran Robert "Bob" Hoover. Therefore it's fitting that Ford has described this Mustang as "the most track-ready road-legal Mustang ever produced". This is one of the many cars in Ford's ongoing custom Mustang line, including those such as the Apollo, Blue Angels and SR-71.
This is to be the fastest Mustang you can drive on the road. The car has an extensive number of modifications. It is based on a Shelby GT35O and comes with the biggest spoiler ever fitted to a factory road-legal Mustang, as well as a lathering of green light from the under-glow package.
If you happen to be interested in a purchase, you won't just be able to rock up to a dealer. The car, like a number of other one-off Mustangs, has been donated to various programmes to promote youth aviation in America. The charity sells them at auction. The price? Well, in the past, similar Mustangs based on aircraft have raised figures as high as $230,000 to half a million USD. And you can get an awful lot of car for that kind of cash. Still, it's for charity right?