Volkswagen has officially unveiled the 2017 Golf GT Clubsport S.
The Clubsport S was built to celebrate the 40th anniversary of the GTI hot hatch and will be built in limited production numbers only. While we all expected a special edition Golf to celebrate the 40th anniversary, we didn't expect it to set the Nurburgring front-wheel-drive lap record.
According to VW, the Clubsport S set the front-wheel drive production car record at the Nurburgring with a lap time of 07:49:21. That means the Clubsport S beat the previous record holder – the Honda Civic Type R – by a full 1.4 seconds!
2017 Volkswagen GTI Clubsport S
Only 400 Clubsport S models will be built worldwide of which 100 models are reserved specifically for Germany.
In order to keep with its sporting pedigree, the interior of the Clubsport S has no rear seats or center armrest. Much of the sound deadening material has also been removed.
Engineers also shed weight by installing aluminum brake covers, an aluminum subframe for the front suspension and installed a smaller battery.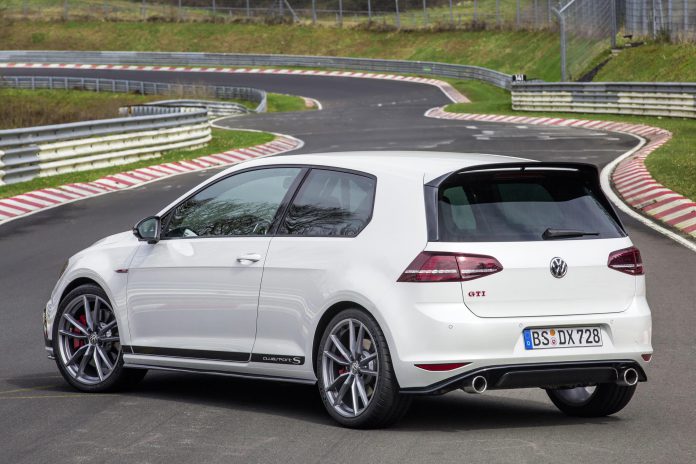 Performance changes to the 2.0-liter TSI four-cylinder engine include a new fuel pump, sportier exhaust system, and an optimized ECU. All of these changes mean a power output of 310 horsepower and 280 pound-feet of torque.
The sprint to 60 mph will take just 5.8 seconds on the way to a top speed of 162 mph.