The 2016 DTM season kicked off to a thrilling start at Hockenheim this weekend, with both Audi and Mercedes-Benz scoring wins in Race 1 and 2 respectively. Edoardo Mortara triumphed in race 1 on Saturday in his Audi RS5 while Paul di Resta emerged on top for Mercedes on Sunday during race 2. There was more action at the Hockenheimring from World RX cars as well as the Audi TT Cup.
Race 1 witnessed all sorts of incidents as drivers embarked on the first round of the season. The top three were decided just five laps into the race, Nico Muller started from pole in his Audi but his start was not entirely perfect. Mortara managed jump Muller on lap 1 and never looked back till chequered flag. Muller scored his first podium victory in DTM with a P3 finish while Robert Wickens put Mercedes-Benz on the second spot on the podium with an incredible P2 finish.
There were several drivers who had to retire after getting caught up in the crashfest behind the leaders. Timo Scheider retired after making contact with António Félix da Costa, newcomer Esteban Ocon retired after hitting Augusto Farfus car and so did Mercedes-Benz driver Daniel Juncadella among others.
Di Resta finished fourth eventually leading Christian Vietoris, Bruno Spengler, Félix da Costa, Maxime Martin, Mattias Ekström and Miguel Molina.
2016 DTM Season Opener at Hockenheimring
Race 2 was not any different in terms of action, though this time it was Mercedes-Benz that scored the main victory with Di Resta. BMW dominated the top ten with six cars while Audi met bad luck after four of their cars retired. Muller was the only Audi driver in the top ten, finishing eighth overall.
Timo Glock finished second but race stewards excluded him from the race after his car was found to be in violation of article 3.7 – the rear lid did not meet the required specifications. That promoted Augusto Farfus and Maxime Martin to second and third respectively – a double podium victory for BMW.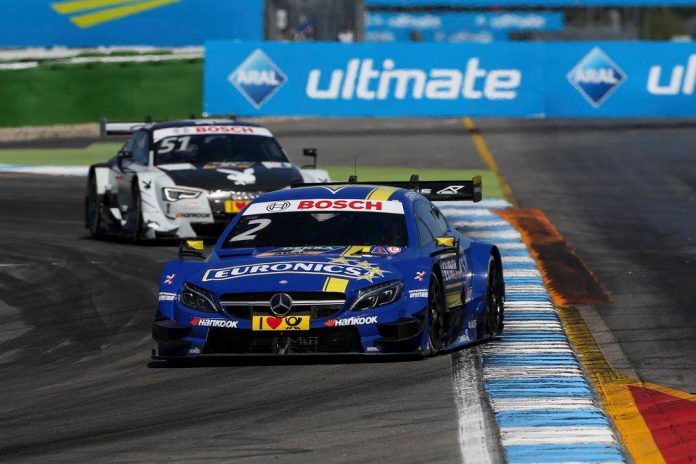 Fourth place went to the most aggressive driver of the race, Gary Paffett in his blue Mercedes-AMG C63. Paffett was well within a podium victory today in the early minutes of the race, chasing down Di Resta in a strategic manner. Everything changed when Paffett was handed a drive-through penalty for unsafe release, where he almost hit Wicken's car on the pitlanes. The penalty demoted him to 10th place and that's when he began an assault that saw him take down five cars – Marco Wittmann, Nico Müller, Martin Tomczyk, Tom Blomqvist and Robert Wickens.
The race was over before Paffett could make a run for the podium, he crossed the finish line in fifth place, and was promoted to fourth after Glock's exclusion. Di Resta now leads the driver's standings after two races with 37 points, ahead of Robert Wickens and Mortara.
The next DTM race will head over to Austria at the Spielberg circuit on May 20. Mortara is the most successful driver on that track with two wins for Audi.