Swedish DTM driver Mattias Ekstrom was the man to beat this weekend at the Hockenheimring after storming into victory during the second round of the FIA World Rallycross Championship. The Audi driver won the event in front of his DTM fans, he was also competing in the season opener of the touring championship at the same location.
Taking second place on the podium was his EKS RX teammate, Finland's Topi Heikkinen who made it 1-2 for team and Audi in general. Ken Block scored the first podium victory for the new Ford Focus RS RX supercar, fielded by his Hoonigan Racing Division team.
Ekstrom kicked off the final day on high spirits after emerging top qualifier in his EKS Audi S1 RX Supercar. After this round, he now ties points with championship leader Petter Solberg at 48.
Speaking about his victory, Ekstrom said; "I've never been happier in my entire life – to win in World RX and now in front of my loyal DTM fans is a dream come true. Topi is a great racer, he certainly made it tough for me! I had my opportunity at the Joker Lap and I managed to take it a smooth line ahead of Topi. What an amazing day but it's not over yet as now it's time for DTM!"
Topi also won the coveted Monster Energy Super Charge Award before scoring P2 and second victory for EKS RX team. He struggled with tire wear but a good strategy ensured his stay at the top. Block on the other hand is still learning the new Focus RS RX supercar which underwent several changes as part of the developmental strategy. The American had qualified 13th but entered the top 12 when Timmy Hansen got disqualified due to weight issues.
FIA Ralltycross Hockeinheim
Timmy had a difficult weekend after his car burst into flames in Q3, his team did a miraculous job of repairing it in just 30 minutes. The Peugeot driver got back into the race and managed to win Q4, he was however disqualified after the car was found to be underweight allowing Block to be promoted to the top 12.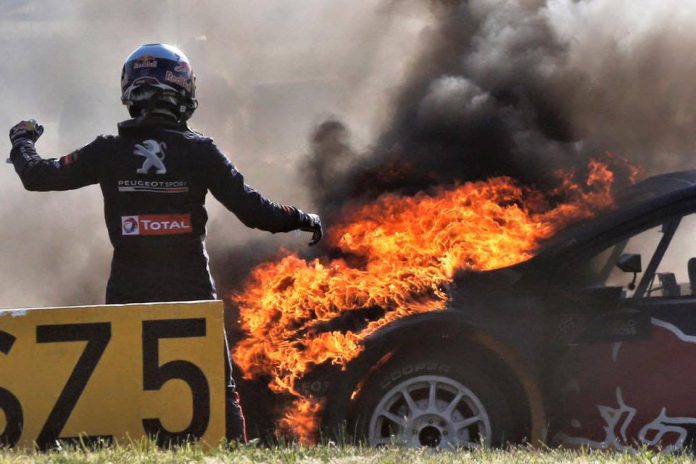 Fourth place went to defending champion and veteran Petter Solberg who also struggled with mechanical problems in his Citroen DS3 Supercar. Solberg was forced to change the engine on his car overnight before finishing fourth today. British driver Liam Doran impressed the field with his MINI supercar, winning the semi-final and eventually finished fifth.
Robin Larsson limped to the finish line in sixth place after rolling his privately entered Audi A1 on the fourth lap. P7 went to rally legend Sebastien Loeb who made contact with Davy Jeanney denying both drivers a chance in the finals.
Round 3 of the FIA Rallycross Championship takes place next weekend at the Mettet circuit in Belgium.