The word "Stealth" is defined in the English dictionary as a movement that is quiet and careful in order not to be seen or heard. It would appear our friends from Vmax200 don't care much for dictionaries, as their latest event of the same name was anything but Stealthy.
The Vmax Stealth event is tailored for unassumingly fast cars. Upon arrival we were treated to an eclectic array of machinery, ranging from the latest Audi RS4s, RS6s, Mercedes AMGs, Nissan GTRs, Porsche 911s to a handful of supercars and hypercars. Top of that list being the Koenigsegg Agera and McLaren P1.
Vmax200 Stealth Top Ten Fastest Supercars
1- Koenigsegg Agera = 216mph
2- ES Motors 997 Turbo = 210 mph
3- McLaren P1 = 210mph
4- Ferrari FXX = 202mph
5- Lamborghini Aventador = 202mph
6- McLaren 570S = 197mph
7- Nissan GTR (Blue) = 197mph
8- Nissan GTR (Grey) = 197mph
9- McLaren 650S = 192mph
10- McLaren 12C = 192mph
We've attended a number of the Vmax200 events over the past few years, these events have proven time and time again to be the most well organised and orchestrated events of their kind. Cars regularly top the 200 mph scale, with almost no incidents. The team behind Vmax certainly knows how to put on a world class event.
As the morning went on, drivers were getting used to the flat out performance of their cars, learning where and when to apply the brakes and how to get the best launches. Something that sounds simple enough, but takes a lot of practice and nerves of steel. While walking through the makeshift pit lanes, we came across a number of Porsches, of which, one stood out above the others.
An 850bhp ESMotor tuned 997 Turbo, after learning that the driver was applying live re-maps after each run we kept an eye out for him on the runway. Slowly but surely he was achieving higher top speeds through the laser traps. Finishing off the day with a highly respectable 210mph.
Running alongside the "Stealth" cars, were a number of rare exotics. Each putting down very impressive top speed runs, the fastest of which overall was the Koenigsegg Agera, with a very impressive 216mph. The McLaren P1, which probably put down more runs than any other car in attendance, finished with a 210 mph run.
Throughout the day, your ears can get used to the noise of V6's, V8's and V10's, however occasionally a car will come along that you cannot prepare for, delivering the most outright offensive engine and exhaust note. All of the regular roars, hums and growls were suddenly silenced by what can only be described as the raw howl of a mid-90s Formula 1 car.
Spectators parted like waves as a road legal Ferrari FXX, the only one in the UK that we are aware of, came through for its first of many runs. Driven by LeMans champion and Vmax regular Oliver James Webb, the most extreme and un-stealth like car was in capable and safe hands. Although setup for track use rather than top speed runways, Mr Webb managed to pilot the FXX to 202 mph, this was certainly the most entertaining to watch and hear. A real treat for the senses.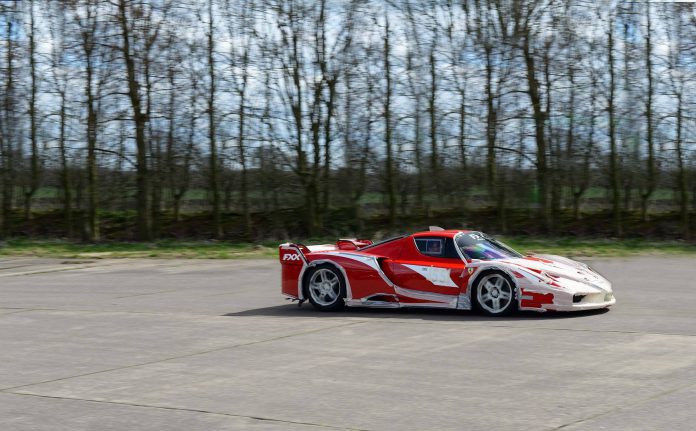 Into the afternoon, we decided to call it a day, after seeing and hearing what could arguably be called the best engines created to date. But this is Vmax200, and things are never what you would expect. While packing up the cameras we saw a black and orange streak coming down the runway towards us, the unmistakable shape of a Bugatti Veyron Supersport World Record Edition. Although this car could probably put down the fastest speed of the day, the owner was only there as a spectator, only fitting in one relaxed run… Once again Vmax never fail to impress and we look forward to attending their flagship "Hypermax" later on this summer.
For more information about Vmax200 and the events they organise, go over to their website or their sister page Auto Vivendi