London is a city of such diversity, so many cultures, different sights, smells and people. It is a city that is characterized not by commonalty, but by the things its 9 million inhabitants differ upon. As we are sure you would have seen, we have been reviewing the finest restaurants in London. When we received an invitation to review BOUNCE in Shoreditch we scratched our scalps a little and took a step back, 'really, a sit down restaurant in the middle of all that?'.
The concept may seem bizarre, but when you look at it from a modern, less conventional point of view it makes complete sense. Where a typical night out in the City would consist of a few drinks, a meal and somewhere to unwind and enjoy the company of friends, BOUNCE really comes into its own.
We found ourselves walking down Old Street in the hipster brimming East End – a stones throw away from the towers of Canary Wharf and The Olympic Park. We had to double check that we had arrived at the correct address, we could not help but feel that we had been thrown back to 1980s America to a diner with bombastic bright neon lights complete with an overweight state police officer working his way through a dozen Lard-Lad donuts on his lap. The exterior complemented with the slightly shady surrounds and punctuated by the seismic tremors of a heavy bass line painted a rather intimidating and surreal image.
What lay beneath the concrete street was very different indeed. Greeted warmly by smiling faces we had our coats taken and were shown to our table…but not one to eat at. What makes BOUNCE so different? Its brings together the social side of a post work catch up or party and adds a huge element of fun with an underground ping pong club. The atmosphere is buzzing and it is quickly clear to see the reason that the tables are fully booked for weeks to come.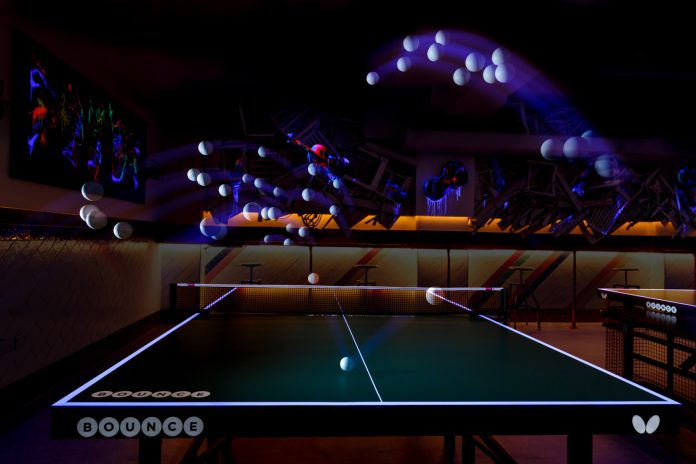 The appeal of being able to unwind with colleagues and friends in such an impressive venue with an activity that can be played by almost anyone is so hard to find in London. After an hour of near continuous laughter and drinks service directly to the table, it was time to settle down and see if the kitchen could match the venues main attraction and impress in equal measure.
The menu is comprehensive and caters to most peoples tastes. Italian themed dishes fill the majority of the pages, no bad thing, and it seemed rude not to begin with a traditional starter and personal favourite – a trio of Bruschetta. Each third of the dish was simple and clean with a crisp crunch followed by a punch of flavors that left us eagerly anticipating the meal to come. Along with the Bruschetta was a pretty bucket of rustic looking rosemary and garlic potato wedges accompanied with a Gorgonzola mayonnaise dip, a very well balance starter that went down a treat.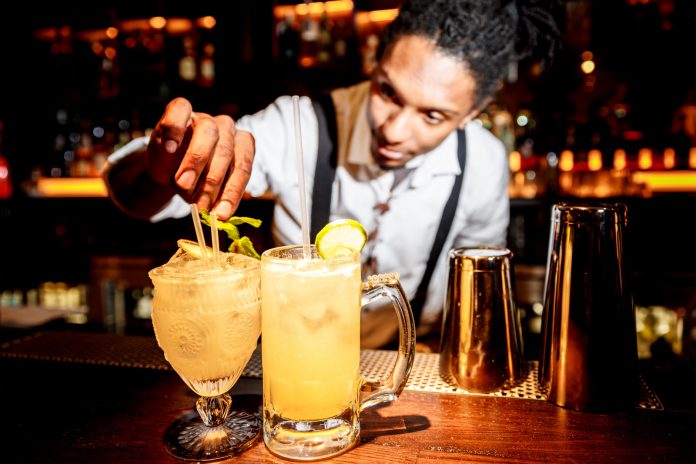 Before long we were graced with the presence of our mains, the aromas and presentation of which were as good as we had ever been exposed to before. Our main course choices were grilled sea bass with a lobster bisque and samphire along with pan fried Label Anglais chicken breast, Tuscan beans, squash, tomatoes and tarragon. Deciding on what to order was no easy task, the menu has an impressive list of options including various Pizzas. That being said, we were certainly had no regrets, the Chicken was delicious and tender and the sea bass rivaled dishes we have indulged in at some of London's finest sea food restaurants.
We could not recall a time where we had ever been so entertained between courses. Sitting at the top of The Shard and admiring the views of London is one thing, but watching well dressed working professionals inelegantly clambering around in Christian Louboutin heels waving ping pong paddles around like fly swats is something else entirely.
Our amusement was brought to an abrupt end by the arrival of the final and most tantalizing course, a welcome distraction indeed. Having the sweetest of sweet teeth we opted to dive into a Valrhona chocolate bomb and a warm chocolate brownie with a side of vanilla ice cream. Both desserts proved to be just as delicious as described.
As venues in the heart of London go it is incredible to see that something as different and exciting as BOUNCE exists. It is not surprising to hear that a new club will be opening in Chicago in the coming weeks and we as sure there will be many more to follow globally. Purely from a fine dining perspective, we were left surprised that an establishment that features food not as a main attraction but almost as an add on hides such a capable and talented kitchen. The marriage of food and fun is sensational and will certainly have us returning in the near future!