The Audi h-tron Quattro Concept made its global debut yesterday at the 2016 Detroit Motor Show. The Audi h-tron Quattro Concept is a giant leap forward towards zero emission driving, powered by a fuel cell and two electro motors.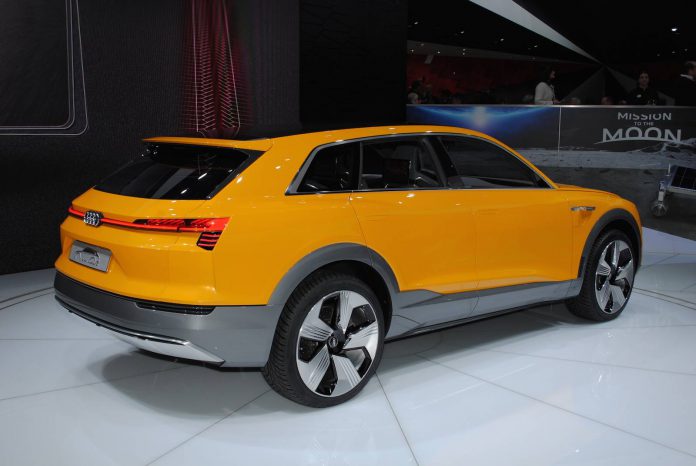 While the electro motors deliver most power, boost and recuperate energy, it's the fuel cell that is the success behind the total driving range of the car. With performance figures reading 550 Nm of torque and a sprint to a 100 kilometers within 7 seconds time, it's all the more impressive that the car is capable of reaching 600 kilometers (372 miles). Fueled by Audi's very own e-gas, it only takes 4 minutes to fill up the car and get back on the road.
With that last thing being said, this will be a serious competitor to electric driving as we know it. Audi is currently expanding its e-gas network and it is already possible for customers to tap into the e-gas, otherwise known as synthetic methane. Audi's current model range knows two models that use the e-gas source, being the Audi A3 g-tron and Audi A4 g-tron. Audi have announced that in a couple of years it will be possible for Audi fuel cell powered vehicles like the Audi h-tron Quattro Concept, to tap into the e-gas source at local gas stations as well.
Audi h-tron quattro Concept
As can be seen on the pictures, everything has been done trying to bring out the car's aerodynamic features and ultimately achieve the best possible fuel economy. Packed with the latest technologies, such as three touch-controlled OLED screens inside the car, the future for this car looks very bright indeed. Just like on the outside, the high-tech matrix laser lighting and OLED taillights contrast nicely with the yellow paint job.
When the futuristic Audi h-tron Quattro Concept will see an official production vehicle, is yet to be determined. It's close relative, the Audi e-tron Quattro Concept which was revealed at the IAA in Frankfurt last year, is set to see a production version in 2018. If we were to guess, the realisation of this concept shouldn't be far away either, knowing that we've already had the opportunity to drive fully functioning fuel cell cars like the Audi A7 h-tron Sportback last year.