First spy shots have emerged of the 2017 BMW 5-Series, which is due to be unveiled in the second half of 2016. The 7th generation 5-Series is expected to offer an extensive range of drivetrain options, many more than its predecessor.
Going by codenames G30, G31 and G32, this generation 5-Series follows its predecessor in terms of body styles. The G30 stands for the regular saloon, G31 for the Touring version and G32 for the slightly lifted GT version. Expected is that there will be a modest focus on the plug-in hybrid of the 5-Series, although a rather exciting 4.4-litre V8 – the one we know from the current 7-Series – will also be among the options.
2017 BMW 5-Series spy shots
Judging from the spy photos, the 2017 BMW 5-Series is set to receive a more outstanding version of the signature kidney-grille, which also adds in terms of functionality when the engine needs cooling. Along the side the car seems to have a more distinctive shoulder line, a trend that we've also seen on the car's direct competitors.
The 520i will be the absolute lightweight model in the range, cutting an impressive 100kg off the current 5-Series' weight. The 520i's final weight will be just 5kg shy of 1600, which means that it will probably make headway in terms of fuel economy.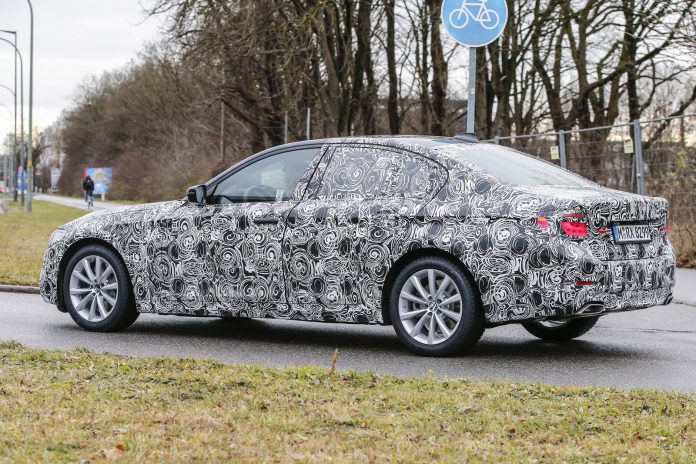 It is furthermore expected that the 2017 BMW 5-Series will feature much of the technology available in the current 7-Series. The 2017 5-Series will be fitted with the fifth generation iDrive system, and the gesture control that we know from the 7-Series will be optionally available. Further highlights include OLED taillights, the new luxury class platform – first introduced on the 2016 BMW 7-Series – underneath the car and improved aerodynamics.
Set to fuel the fight in the business segment, the new BMW 5-Series is going head-to-head with the recently unveiled Mercedes-Benz E-Class and Jaguar XF. Late last year there were rumours about a new generation Audi A6 coming around the same time as the 2017 BMW 5-Series as well.