Mercedes-Benz have officially released the 2017 Mercedes-Benz E-Class following its online leak last week. The executive sedan is Mercedes-Benz big release of the Detroit Motor Show 2016. What a way to kick off the new year!
The tenth generation E-Class gets a host of innovations below the new exterior styling. An all-new infotainment system, a new range of diesel engines and innovative safety features help keep the Mercedes-Benz E-Class on top of its game while lightweight technology and aerodynamic efficiency ensure a perfect ride.
As we had already learnt, the wheelbase of the 2017 Mercedes-Benz E-Class grows by 65 millimetres and by 43 millimetres in length. Overall, the design benefits from short overhangs, a long wheelbase, large wheels and taut well-defined flanks. Overall, the 2017 Mercedes-Benz E-Class begins to resemble the top-of-the-range S-Class.
Different trim levels are available including the base version which features the classic Mercedes-Benz radiator grille with bonnet-mounted logo. The Exclusive line adds a classier trim level with Avantgarde and AMG Line models featuring a sports radiator grille with integrated Mercedes-Benz. The headlights are multi beam LED headlamps with 84 individually controlled high-performance LEDs.
2017 Mercedes-Benz E-Class
The 2017 Mercedes-Benz E-Class' lightweight body shell is constructed from aluminium and ultra-high-strength steel components. It has a far higher proportion of aluminium than its predecessor. The front wings, bonnet, boot lid, and large sections of the front and rear ends are made of sheet or cast aluminium. The E-Class achieves a record-breaking drag coefficient (cd value) of 0.23. This comes thanks to an Airpanel Advanced shutter system, available for most engines in Exclusive trim which opens the radiator grille by means of adjustable louvres.
From launch, the 2017 Mercedes-Benz E-Class will come with two engine options. The first is the E200 with a four-cylinder petrol engine. The second is the E220 d, Mercedes-Benz new four-cylinder diesel engine. The new diesel engine is shorter than its predecesor thanks to a 4mm shorter cylinder spacing. It produces 195 hp with emissions figures of 102 grams per kilometre and efficiency figures of 3.9 litres per 100 kilometres. It features single-stage turbocharging and variable turbine geometry.
Later, Mercedes-Benz will offer an E 350 e with 30 kilometres of purely electric power, a four-cylinder petrol engine and a combined output of 279 hp with torque of 600 Nm. A more powerful six cylinder diesel will offer a 258 hp alternative with a peak torque of 620 Nm. Short of the expected AMG model, the E 400 4MATIC with its six-cylinder petrol engine will get 333 hp and a maximum torque of 480 Nm.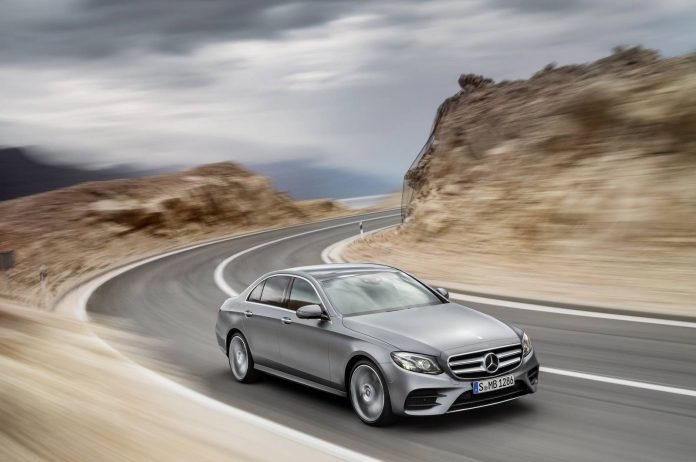 Mercedes-Benz will also expand its four-cylinder diesel offerings after launch with a planned 150 hp version of the 2017 Mercedes-Benz E-Class together with two petrol versions producing 183 hp to 245 hp all with ECO start/stop function. All launch models will be fitted with the new 9G-TRONIC nine-speed automatic transmission as standard.
Direct control suspension systems are available for the 2017 Mercedes-Benz E-Class with comfort suspension offering selective damping and a 15 millimetre lower ride height. Comfort Avantgarde suspension offers 15 millimetres lower ride height and adaptive damping. Air Body Control is also available as an option which controls the ride height automatically depending on the speed. Together with Dynamic Control it offers four further modes; "Comfort", "ECO", "Sport" and "Sport+".
Safety systems within the 2017 Mercedes-Benz E-Class include Active Brake Assist, fitted as standard which warns the driver of impending crash, assisting with braking where required. Attention Assist which can warn the driver of inattentiveness and drowsiness. Crosswind Assist, which can substantially mitigate the effects of strong crosswinds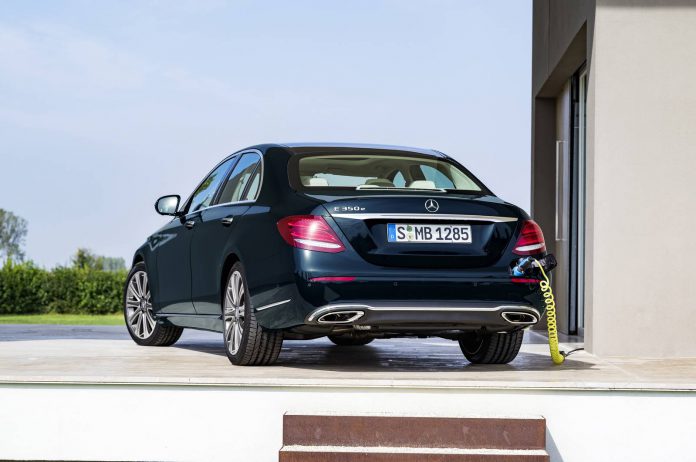 The optional Driver Assistance package includes Drive Pilot, a step closer to autonomous driving. It is able to keep the car the correct distance behind vehicles in front, following at speeds of up to 210 km/h. The idea is that the driver no longer needs to think about the brake or accelerator, with Steering Pilot, even the steering is taken care of up to speeds of 130 km/h.
Further technical systems include Comand Online with Speed Limit Pilot which can autonomously adjust the vehicle's speed in response to camera-detected speed limits or speed limits logged in the navigation system. Active Lane-change Assistant for the Drive Pilot which uses a radar and camera-based system to assist the driver when changing lanes and can steer the E-Class into the lane selected by the driver. This particular system will hopefully eradicate those annoying drivers who take too long to change lane. If the driver indicates to turn for at least two seconds, the Active Lane-change Assistant assists with steering into the adjacent lane if it detects that the lane is unoccupied.
Active Brake Assist gets cross-traffic function with extended speed thresholds. It can also detect crossing traffic at junctions and apply the brakes autonomously. Evasive Steering Assist complements this by adding precise steering torque to support the movement of the wheel when the driver deliberately or instinctively performs an evasive manoeuvre in a dangerous situation. Even parking is taken care of with the Remote Parking Pilot, James Bond would approve!
Really, we could go on. Essentially, the 2017 Mercedes-Benz E-Class is as close as it gets to autonomous driving. As part of its commitment to technology, Mercedes-Benz has also introduced another innovation in the form of Car-to-X communication. It is hoped that it can be retrofitted to allow the mobile phone-supported exchange of information with other vehicles. It effectively allows the driver to "see around corners" or "through obstacles" well in advance.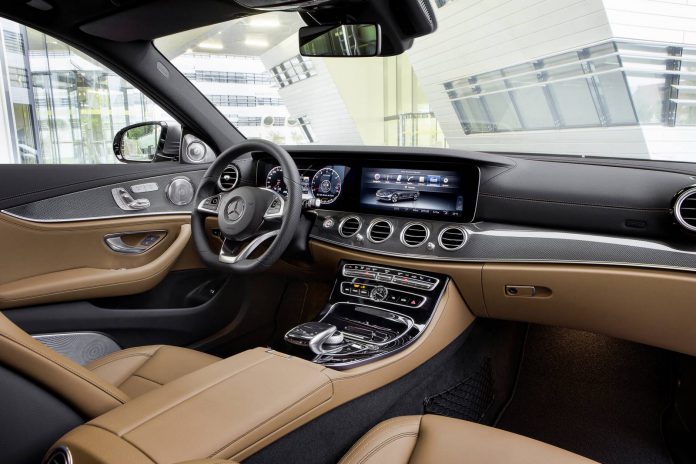 Inside, the 2017 Mercedes-Benz E-Class gets two next-generation high-resolution displays, each with a 12.3 inch wide screen. "Classic", "Sport" and "Progressive" options change the look of the displays. The touch-sensitive control buttons on the steering wheel are also brand new. They respond swiping movements, allowing easy control of the entire infotainment system. For more complex infotainment commands, the 2017 Mercedes-Benz E-Class also gets a touchpad with controller in the centre console. As standard, the 2017 Mercedes-Benz E-Class gets a Mercedes-Benz-developed Frontbass system for audio. Optionally, the stunning Burmeister system is also available.
Trim options include open-pore woods and leather. In total, 64 interior lighting colours are on offer lit by energy-saving LED technology. The seat design is new for the E-Class and features a Heat Comfort package with heated armrests in the doors and on the centre console. The rear bench gets an optional three-piece backrest with a 40% – 20% – 40% split.
Even the key is from the future, the Digital Vehicle Key uses Near Field Communication technology and allows the driver's smartphone to be used as a vehicle key.