On the back of its recent online debut just over a week ago, a brand new 2016 BMW M2 has just been snapped in the United States by a Bimmer Post member. This particular M2 was photographed in a carpark in New Jersey near the German company's North American headquarters.
It seems inevitable that this M2 is in the country ahead of private unveilings at local dealerships. Additionally, its possible that it was undergoing some final road testing with a small bit of camouflage humorously covering the M2 and BMW badges on the back.
Customer deliveries of the BMW M2 aren't expected to start until early next year despite production recently kicking off in Leipzig, Germany.
The M2 is closely related to the BMW M235i but features a selection of significant upgrades. Starting with the engine, it is a 3.0-litre inline-six cylinder featuring a TwinScroll exhaust manifold-integrated turbocharger. When combined with direct injection, a Double-VANOS system, custom pistons and crank bearings from the M3 and M4, the 2016 BMW M2 pumps out a total of 365 hp at 6500 rpm and 343 lb-ft of torque from as low as 1400 rpm. Those figures represent 45 hp and 13 lb-ft gains over the M235i.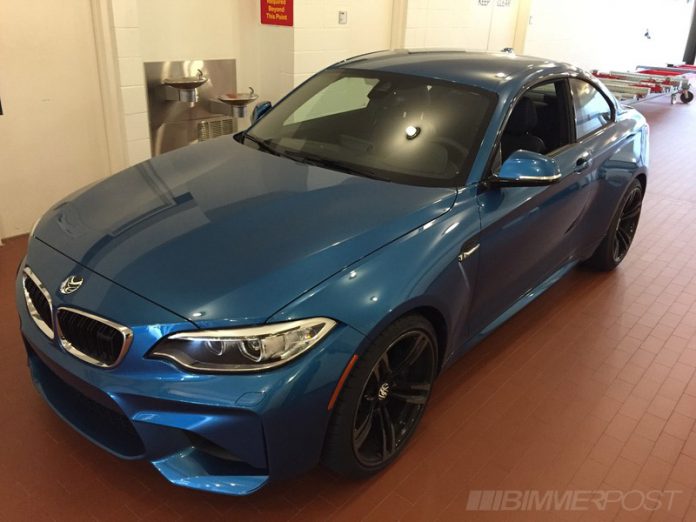 When combined with the optional dual-clutch automatic transmission, the M2 will accelerate from 0-96 km/h in a brisk 4.2 seconds. When the standard six-speed manual is specced, that acceleration figure increases slightly to 4.4 seconds. The top speed sits at an electronically limited top speed of 250 km/h. Unsurprisingly, the DCT comes compete with a Launch Control feature.