The Audi Forum Neckarsulm dealership in Germany frequently displays some of the rarest and most interesting cars produced by the German automaker. Most recently, the one-off e-Tron Quattro Concept from the IAA Frankfurt Motor Show is being shown off to prospective customers at the showroom.
This is the first time we've seen the Audi e-Tron Quattro Concept anywhere other than at Frankfurt and under the fluorescent dealership lights, the unique shade of blue really pops and catches the eye.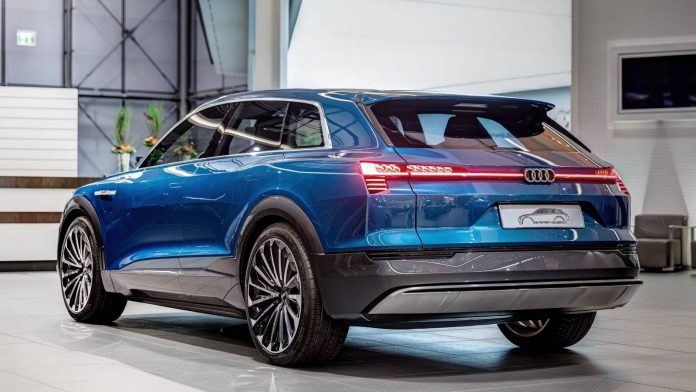 Generally speaking, the front of the concept is characterised by a large upright grille as well as a unique set of headlights, unlike those from other existing Audi models. The windscreen is heavily raked while the side windows are also very narrow due to the low roofline. An aggressive roof spoiler is visible at the rear, alongside the small rear window, sharp taillights and bold bumper/diffuser package.
Underpinning the e-tron Quattro Concept is the German automaker's latest longitudinal modular platform, with it sitting between the Audi Q5 and Q7 in terms of length. The car has a drag co-efficient of just 0.25. It has been produced to previewing Audi's upcoming all-electric Q6 crossover to rival the Tesla Model X.