At the IAA Frankfurt Motor Show 2015, Audi celebrated the world debuts of no less than three cars; the Audi SQ5 TDI Plus, the S8 Plus and of most significance, the e-tron Quattro Concept.
The Audi e-tron Quattro Concept was certainly one of the highlights of the show. It has been created to preview the upcoming all-electric Audi Q6 crossover which will rival the Tesla Model X. Underpinning the car is the German automaker's latest longitudinal modular platform, with it sitting between the Audi Q5 and Q7 in terms of length. The car has a drag co-efficient of just 0.25 and as the live pictures show, quite a sleek design reminiscent of other Audi models.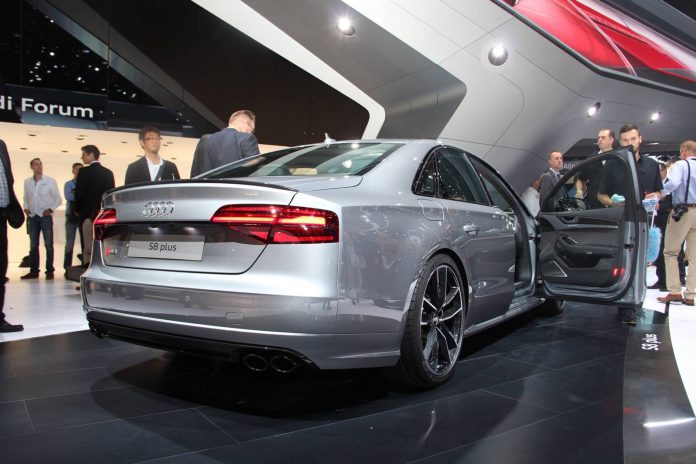 From a powertrain standpoint, the e-tron Quattro Concept features one electric motor which drives the front axle and two others which drive the rear axle. This creates a total output is 320 kW or 370 kW and over 800 Nm (590.0 lb-ft) of torque while on temporary boost. 
The colour blue has proven particularly popular at IAA 2015 with the SQ5 TDI Plus also painted like this. It utilises a 3.0-litre twin-turbocharged V6 diesel engine that produces 340 hp and 516.3 lb-ft of torque. Those figures represent an additional 27 hp and 36.9 lb-ft over the standard SQ5 TDI. The SQ5 TDI Plus can reach 100 km/h in 5.1 seconds and continue to accelerate to an electronically limited top speed of 250 km/h.
As for the Audi S8 Plus, it is an even more powerful and faster variant of the S8. As a matter of fact, it can accelerate to 100 km/h in just 3.8 seconds as well as a 305 km/h top speed. Those figures are achieved thanks to a 4.0-litre TFSI V8 engine delivering 605 hp and 553 lb-ft of torque in overboost mode.