Imagine an instance where you have your own private island that comes with all the natural features of a normal island such as waterfalls and a beach, but with additional artificial characteristics such as mobility. Yes, an island that can move from place to place on the sea such that you literally carry your whole world with you!
That's exactly what the genius minds at Migaloo Submarines in Austria have designed. Kill the imagination you began with as this concept is actually real and will debut at the upcoming Monaco Yacht Show on September 23.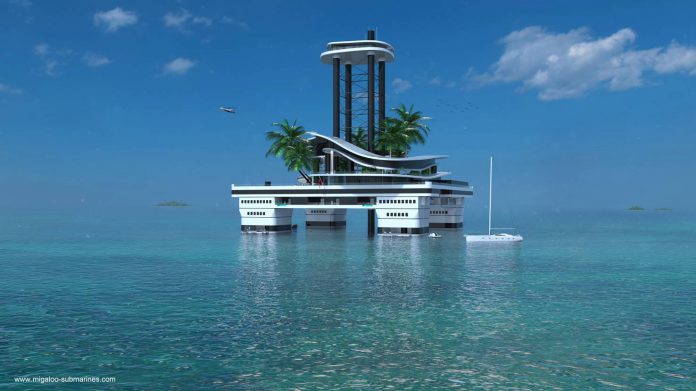 Dubbed the Kokomo Ailand, the 117-meter floating habitat is a futuristic mega yacht that has come before its time. It's a fully personalized private island with all the modern amenities of the present day ultra-luxury living. The Kokomo Island is built with an owner's penthouse positioned 80 meters above sea level. There are two private elevators, a jacuzzi with glass bottom and a beach club with a gym.
The surprises do not end there, if you decide to hit the beach there is a jungle deck pool with a waterfall, palm trees, cocktail bars and vertical gardens. You are surrounded by exotic plants and real wildlife in the jungle deck pool. For the beauty queens, there is a spa deck with massage and beauty saloons.
There is a huge outdoor dining area that also provides room for garden deck strolling and relaxing. The beach deck will bring out your younger self as it's fitted with an entertainment pool with a bar and barbeque area. Additional entertainment features include outdoor cinema, laser shows, dancefloor and underwater elevator for shark feeding. Then there is the VIP and guest deck that has a private balcony with infinity pools.
The helipad is positioned at a logical location to allow fast departures. Meanwhile, the Kokomo Island has moderate speeds of up to 8 knots thanks to its eight Azipods. There are four tender bays that can host both limo tenders and large submarines.
The company Migaloo Private Submersible Yachts is not new to this kind of work, they have vast experience in the yachting and submarine industry. The design and engineering team is made of of raw talent that has mastered the art of fulfilling owner's preferences. They build private submarines of up to 283 meters in accordance to the US Navy's Subsafe standards.
View the Kokomo Ailand video below.
[youtube]https://www.youtube.com/watch?v=rv2dS63Kzb8[/youtube]