The third leg of the Lamborghini Blancpain Super Trofeo North America took place this weekend at the Virginia International Raceway, with three rounds in play. Round 4 was carried over from Watkins Glen after it was cancelled in June due to heavy rains. That brought the total number of rounds in Virginia to three including Round 5 and 6. Round 5 was held first followed by 4 before the 6th round completed the action packed racing weekend.
Richard Antinucci and Edoardo Piscopo representing Lamborghini Beverly Hills went ahead to win Round 5 with the No. 50 O'Gara Motorsport Huracán LP 620-2. The duo started from pole with Piscopo at the wheel, he managed to clear the field behind him by creating a gap of up to 22 seconds. He handed the car to his partner during a mandatory pitstop, Antinucci never slipped as he raced all the way to the chequered flag in P1. This was Piscopo's first win of the season and third for Antinucci.
Speaking about his victory, Piscopo said, "The track was not as fast this morning because the temperatures were higher, but the car managed really well. I was focusing on not using too much of the car because I wanted to leave Richie (Antinucci) a good car, and I think I did a good job because he had really great laps at the end."
Meanwhile, Corey Lewis in the No. 29 Change Racing Lamborghini Huracan from Lamborghini Carolinas took second place and first place in the Pro-Am class. He led Damon Ockey in the No. 09 Lamborghini Huracan of O'Gara Motorsport from Lamborghini Calgary. Ockey was the first in the Amatuer class. His brother Ryan Ockey finished fourth overall and second in the Amateur class during round 5 in the No. 89 O'Gara Motorsport Lamborghini Huracan from Lamborghini Vancouver.
Third in Amateur class was Ross Chouest in the No. 3 Musante-Courtney Racing Huracán from Lamborghini Miami. Cedric Sbirrazzuoli and Lawrence DeGeorge took second place in the Pro-Am class driving the No. 07 STR Lamborghini Huracan from Lamborghini Dallas. Jeffrey Cheng was third in this class.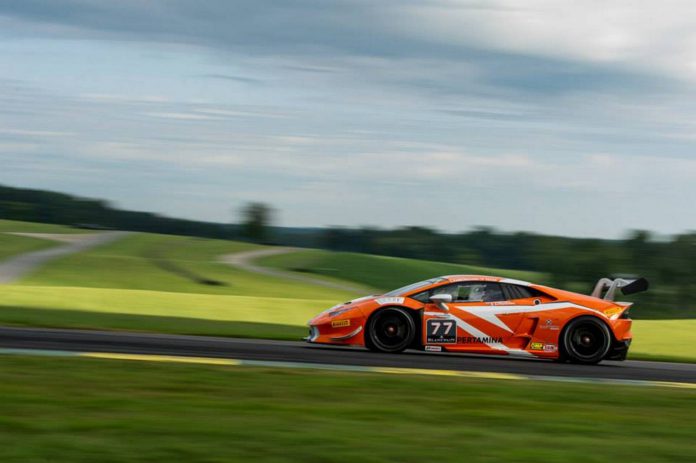 Round 4 was full of action and comeback veterans including Kevin Conway. Piscopo started from pole but the field behind never let him out of sight. Snow and Conway were battling for second place, Snow managed to snatch it and began the hunt for Piscopo. His luck struck when Piscopo was handed a drive-through penalty for an improper restart. Snow started to build a gap between him and the field behind, Conway had suffered a flat tire and surrendered his place to Lewis.
Moments later Snow claimed his first ever Super Trofeo win leading Justin Marks in the No. 99 Change Racing Lamborghini Huracan and Antinucci who had recovered from the penalty to finish in third. Lewis finished in fourth but first in Pro-Am, Cheng and Halliday took second in Pro-AM while Sbirrazzuoli and DeGeorge took third place. Jim and Josh Norman finished first in Amateuer class leading the Ockey brothers who filled the remaining two spots.
An excited Snow uttered, "The end of the first race didn't go so well, but now we got the car back together, thankfully. It took all day, but we got it back together just in time, and we were as late as could be for grid. But we made it, and I am just so glad I was able to go to the front and stay there for the rest of the race. It was amazing."
The fourth leg of the Lamborghini Super Trofeo North America will take place on September 19 at COTA. That same weekend will see the fifth leg of the European series take place at the Nurburgring.