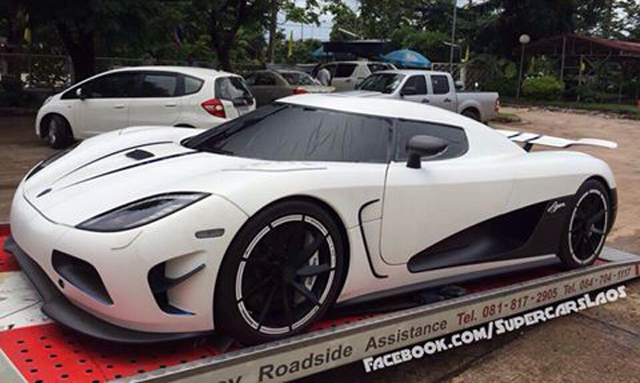 The small Asian nation of Laos has just welcomed what could very well be its most powerful, exclusive and fastest car; a stunning white Koenigsegg Agera.
The standard Koenigsegg Agera hasn't been produced by the Swedish automaker for quite a few years. Consequently, it is inevitable that this example is used and was only recently delivered to its new owner in Laos.
As for the car's specification, it is quite subtle yet as with any Koenigsegg model, still overtly menacing and head-turning. It features a white body as well as blue racing stripes stretching up the bonnet and also found on the rear wing. Numerous carbon fibre elements are also found across the exterior alongside matte black wheels combining white outer rims. Silver brake calipers are also present.
Powering the 'standard' Agera is of course a twin-turbocharged 5.0-litre V8 engine. That powertrain pumps out a total of 960 hp at 7100 rpm and over 1100 Nm of peak torque at 4000 rpm. Consequently, the vehicle can accelerate to 100 km/h in just 3 seconds and 200 km/h in 8 seconds.
Update: We've just learnt that this is in fact an Agera R and that it once lived in the United States!