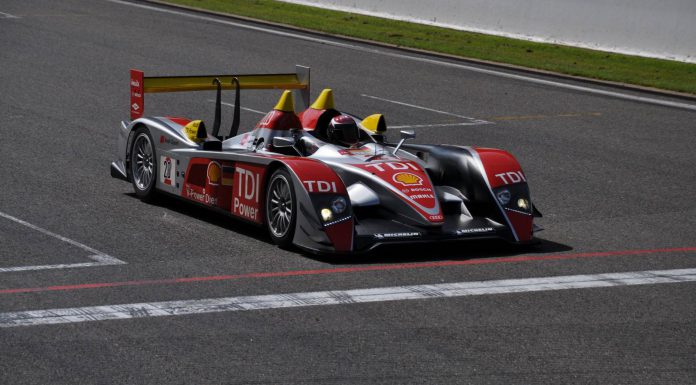 A day at Curbstone Track Events is the perfect moment to keep cars and drivers sharp. That is exactly what brings many professional teams to the track of Spa Francorchamps. We didn't count them but there must have been more than 15 Porsche GT3 Cup cars from several racing teams as well as cars owned by true enthusiasts. We know the GT3 Cup is a true race car and the top drivers showed that with lap times around 2 min 22 seconds. That is very fast considering the Koenigsegg One:1's production car lap record stands at 2 min and 32 seconds.
Beside the Porsche Cup cars, the most spectacular car was without a doubt the Audi R10 TDI, the same car that won the 24 Hours of Le Mans back in 2008. Thanks to its 5.5-litre V12 diesel engine producing around 650 hp, the Audi was definitely the fastest car around the track last Thursday.
Next to the Le Mans winning Audi and the many Porsches we also spotted several Ferrari 458 Challenges, three Ferrari 458 GT3s, an Audi R8 Ultra GT3 and a Lamborghini Huracan GT3. The honour for loudest definitely car went to a Chevrolet Corvette C6.R GT2. This last generation GT2 car has a 5.5-litre V8 engine in its nose which made lap times of 2 min 24 seconds possible. When seeing all these beauties together we have to agree with the organisations slogan being "Probably the best track and test day organiser in the world".