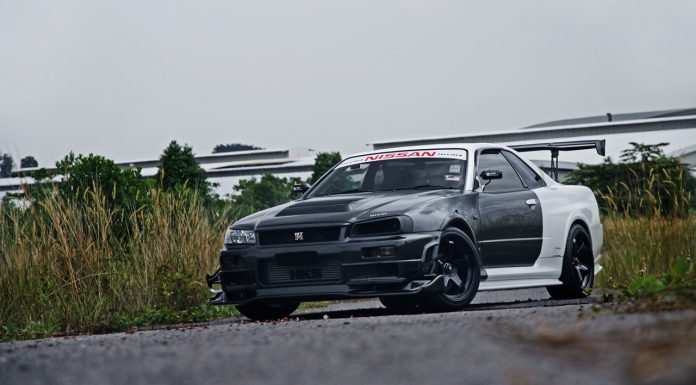 The Nürburgring special edition of the Nissan Skyline R34 GT-R is rare. The Japanese automaker only produced 1000 units of the car in honour of the famous race-track in Germany and they are said to have a better performance and handling than the standard V-Spec versions.
There's a larger turbo with steel exhaust turbines. The car borrows the same 2.6-litre engine from the standard R34, that generated around 280 hp. However, it is often claimed that the V-Spec II Nur edition produced 50 hp more. Yet these figures were never officially confirmed by Nissan because of the '280 hp rule' in Japan.
The '280 hp rule' was a "gentlemen's agreement" in the Japanese automotive industry whereby the companies agreed among themselves to not produce cars with more than 280 hp in order to reduce high-speed accidents.
Moving on, our Photo of the Day is the Nissan Skyline GTR V-Spec II Nur with black and white exterior colour combination. The car looks ruthless to say the least and belongs to an enthusiast from Malaysia. It's also worth mentioning that the black R34 seen in the gallery above (the one in the night shots) is an even rare unit: an S-Tune Nissan Skyline R34 GTR V-Spec II.
[via Zahid Kasim]