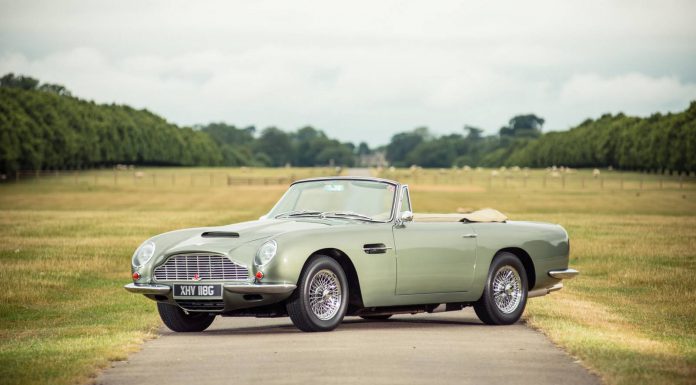 On the 4th of September, Silverstone Auctions will hold its annual Salon Prive auction. A number of incredibly impressive cars will be sold throughout the auction with some tipped to sell for almost $1 million each.
One of the most exclusive cars being sold will be a remarkable Aston Martin DB6 Vantage Volante. Expected to sell for between 825,000 and 925,000 pounds, the car comes complete with a full inspection report by Heritage Aston Martin expert Desmond Smail.
Elsewhere, a Ferrari 250 GTE Series II 2+2 will be sold as part of the auction. It is based around the 250 SWB and should sell for around 300,000 – 350,000 pounds. This particular car has undergone a complete restoration and is therefore in excellent condition.
A 2001 Ferrari 550 Barchetta finished in Tour de France Blue will also shift hands at the auction with an estimate of 240,000 to 280,000 pounds. On an even more modern front, a 2010 Porsche 911 GT2 RS complete with a 620 hp engine, rear-wheel drive, a six-speed manual transmission and just 2000 miles on the clock is expected to be sold for between 300,000 and 350,000 pounds.
[showhide]
"Silverstone Auctions returns to Salon Privé for another luxury line-up of exquisite and rare cars in world-class video preview
Preview of the 2nd Salon Privé Sale presents a handful of exclusive classic and modern cars ahead of their sale at Blenheim Palace on Friday 4 September
Line-up includes ex-Paris Motor Show 1962 Ferrari 250 GTE, 1 of 29 1986 Aston Martin DB6 Vantage Volante and 1 of 16 UK-supplied right-hand-drive 2010 Porsche 997 GT2 RS
Last year's record-breaking sale at Salon Privé saw 1971 Ferrari 365 GTS/4 Daytona Spyder go under the hammer for £2,277,000* and 1960 Ferrari 250 GT Pininfarina Series II Coupe sold for £707,215*
The Salon Privé Sale complements Silverstone Auctions' calendar of auctions held at some of the most iconic automotive events and locations in the UK
Video link: www.youtube.com/watch?v=2skug_YiGYo
Silverstone, 3 August 2015
In a world-class video preview, Silverstone Auctions proudly presents its Salon Privé Sale Preview video. In the luxurious grounds of Blenheim Palace it features some of the finest cars available for sale at the moment.
Salon Privé combines supercars, hypercars, concept cars and most notably, iconic classic cars in the extravagant grounds of Blenheim Palace. Appearing in the Salon Privé Sale, Silverstone Auctions is proud to present the Ferrari 250 GTE Series II 2+2, as displayed at the 1962 Paris Motor Show. The car, which is largely based on the 250 SWB, was the marque's first true production 2+2 and marked a new era for Ferrari.
The 1962 matching-numbers example is due to be auctioned for an estimate of £300,000 – £350,000. Presented with a large history file after a sympathetic bare metal restoration to return it to its original condition, the car looks superb in its original colour scheme. It comes complete with a large history file, including a full photographic documentation of its restoration as well as superb provenance from its Paris Motor Show heyday.
Another noteworthy and rare classic appearing in the auction preview video is a 1 of 29 UK-supplied 1968 Aston Martin DB6 Vantage Volante. A mere 140 DB6-based Volantes were manufactured and of these, only 29 were specified with the more powerful Vantage engine. This particular car has undergone extensive recomissioning including a major service and suspension overhaul in 2013.
This remarkable DB6 Vantage Volante will be sold with a full inspection report from Heritage Aston Martin expert, Desmond Smail, who will also carry out any remedial works required. The Aston Martin would make an impressive addition to any international collection and would be welcome at most prestigious classic car events around the world; its estimate is £825,000 – £925,000.
A slightly more modern, and indeed faster car joining the sale is a 2010 Porsche 997 GT2 RS. Known as the 'most powerful, road-legal 911 ever produced', only 16 examples were delivered new to the UK, of 500 delivered worldwide.
Powered by a 3.6-litre engine, using twin variable geometry water-cooled turbochargers, the 997 GT2 RS produces 620bhp and over 516 lbs feet of torque through a six-speed manual transmission. Available at auction with a highly desirable 'Black and Red Club Sport' package and just over 2,000 recorded miles, it is estimated to be sold between £300,000 – £350,000.
Another outstanding car making its way to the Salon Privé auction is a 1954 Bentley R-Type Continental Fastback. 1 of 75 R-Type Continental was one of the first four seater sports coupes capable of speeds up to 120 mph, thanks to its upgraded 4,877cc engine – up from 4,566c in previous models.
The highly desirable later D-Series model is offered with superb documentation and history, including original build sheets, handbooks, historical photographs, Autocar road test reviews and even owners' correspondence, the car will be auctioned with an estimate of £900,000 – £1,100,000. A very similar car was sold by the auction house at last year's sale for £1,012,000* proving its popularity in the current market.
Last year's Salon Privé Sale, which incidentally was the first auction of its kind held by Silverstone Auctions, yielded £9,900,000* and included an incredibly rare 1971 Ferrari 365 GTS/4 Spyder, sold for £2,277,000* and a glorious 1960 Ferrari 250 GT Pininfarina Series II Coupe, which sold for £707,215* – an impressive £330,000 over its lower estimate.
The upcoming sale offers another Ferrari of similar quality and rarity, a superb low-mileage 2001 Ferrari 550 Barchetta. The car was designed to celebrate the 70th anniversary of design house Pininfarina and the company's 50th anniversary of working with Ferrari. The end result was the glorious V12-engined 550 Barchetta, produced in very limited numbers, only available to the most discerning customers.
Available for auction with an estimate of £240,000 – £280,000, the 550 Barchetta is finished in rare Tour de France Blue paint with matching dark blue interior. The right-hand drive example has been used sparingly and has only covered 8,143 miles.
Another exceptional classic with rarity and racing kudos is a superb 1958 AC Ace Bristol. Named as a 'racing car for the road', the Grandfather to the AC Cobra was first introduced at Earls Court Motor Show in 1953. The car epitomised a new era of British post-war sports car production, it was the first British car to be equipped with independent suspension by transverse springs but also had pioneering tubular 'ladder-type' chassis, which had been successfully used by the marque on previous cars.
The Bristol engine was added to the AC Ace in 1956 and the partnership of the more refined straight-six engine with the lightweight bodywork, ensured the cars were competitive on the track in the hands of enthusiastic club racers, private owners and most notably by the Ken Rudd team at Le Mans in 1957 and 1958.
In total, only 466 Ace Bristols were produced and are rarely seen on the open market. The car offered for sale at Salon Privé is resplendent in its original colour scheme in a superb condition. Having successfully been piloted at Spa 6 Hours, Dijon-Prenois and Silverstone Classic in the highly prestigious Sir Stirling Moss Trophy for pre-1961 Sports Cars, the car is offered with a full MSA Historical Technical Passport with a respectable estimate of £180,000 – £220,000."
[/showhide]