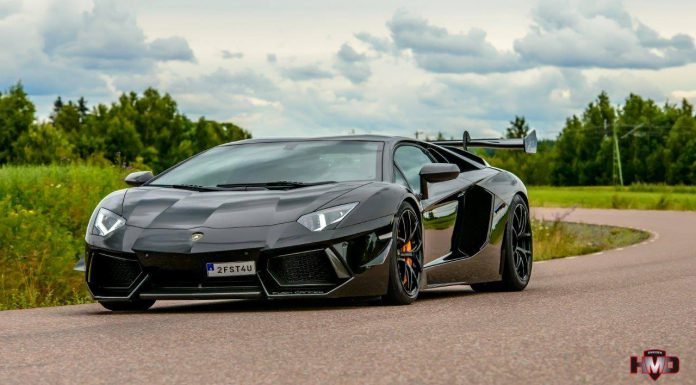 Based in Sweden, Hans Dahlback's Dahlback Racing is one of the biggest tuning shops in Europe. Naturally, Dahlback has a plethora of contacts in the automotive industry and he got the Squadra Corse division of Lamborghini to build a custom Lamborghini Aventador LP 700-4 for himself, that has been spotted by Gustav of GTboard.
Dahlback's Aventador sports a new front bumper with restyled air intakes, a revamped rear fascia and a large race car-inspired rear spoiler. It also has matte black alloy wheels with orange brake calipers and the two go well with the black exterior paint of the car. It is now known whether there have been any performance modifications to Dahlback's Lamborghini as well.
Nonetheless, the stock Lamborghini Aventador is powered by a 6.5-litre V12 engine that produces 700 hp (515 kW) and 690 Nm (507 lb-ft) of torque. The power is transmitted to all the wheels of the car via a 7-speed ISR transmission. The Aventador can sprint from 0 to 100 km/h in just 2.9 seconds and has an electronically limited top-speed of 350 km/h.
The supercar was first showcased at the Geneva Motor Show 2011 and its design is borrowed from the Reventon and Lamborghini's Estoque concept car. The production of the Aventador is limited to 4,000 units, 99 less than its predecessor, the Murcielago.
[Via GTboard]