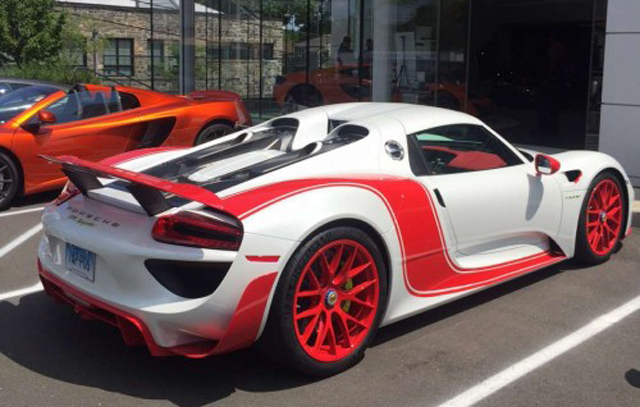 A Porsche 918 Spyder with the optional Weissach package in the United States has just become one of the world's most eye-catching hybrid hypercars.
Over two months, the 918 Spyder received a custom paint job from Detailing Dynamics in New York as well as Finish Line Collision. The paint scheme combines gloss white with a number of red elements and is unlike any of the liveries offered as standard by the German manufacturer.
Starting at the front, the splitter has been painted in bright red as have the wing mirrors. The sides are then noteworthy for the bright red wheels as well as the bespoke stripe running from the start of the side skirts over the rear wheel arches and finishing just above the taillights. Elsewhere, the rear wing and rear diffuser and rear winglets are painted red. Completing the exterior finish are bright green brake calipers.
As a reminder, the headline for the Weissach Package is improved performance. From zero to 100 km/h takes just 2.6 seconds, 0.2 seconds faster than the standard model. It takes just 7.2 seconds to travel from zero to 200 km/h in 7.2 seconds (a 0.5 second reduction), and 19.9 seconds to pass the 300 km/h mark (a 2.1 second reduction).
Under the hood, it features the same powertrain as the standard 918 Spyder. That is a mid-mounted 4.6-litre V8 engine producing 608 hp independently – the highest specific power of any naturally aspirated Porsche engine. The V8 is then supplemented by a further two electric motors mounted on each axle resulting in a total of 887 hp.