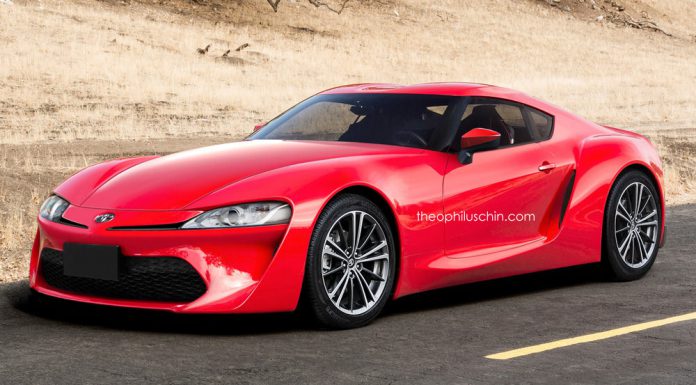 Just after reports emerged that the jointly-developed Toyota and BMW sports cars could pump out over 470 hp in plug-in hybrid specification, Theophilus Chin has created a new rendering of the Toyota side of the project. Based around the bold Toyota FT-1 Concept, the car presented certainly looks impressive.
Generally speaking, it is much more subtle than the FT-1 Concept and has borrowed a selection of elements from the Toyota GT86 including its wheels. Additionally, the rear wheel arches and roofline are reminiscent of the GT86. Meanwhile, an exceptionally long bonnet is featured as is a large blacked-out front grille.
While the design of the car will be undeniably important in ensuring its success, it will be overshadowed by its underpinnings. For starters, it is reported that both the new Toyota Supra and the replacement to the BMW Z4 will share a lightweight aluminium spaceframe chassis. Additionally, a selection of carbon fibre reinforced plastic body panels will be featured across both models.
From an engine standpoint, the BMW side of the project set to spawn the Z4's replacement, will be available with both a turbocharged 2.0-litre four-cylinder engine and a 3.0-litre turbo six-cylinder. Additionally, these two will be joined by a plug-in hybrid variant later. As for the Toyota, it will be available with the same 3.0-litre six and plug-in hybrid but won't be offered with a four-cylinder.
In terms of power, the BMW four-cylinder should pump out about 241 hp and 350 Nm of torque. Meanwhile, the 3.0-litre turbo-six will deliver in the region of 335 hp and 450 Nm. As for the hybrid, it is speculated to produce as much as 470 hp.
[Via Theophilus Chin]