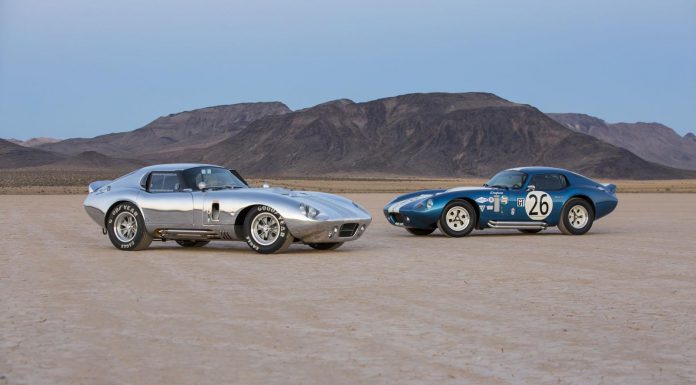 Shelby American has just unveiled a special refreshed run of the iconic Shelby Cobra Daytona Coupe. Dubbed the 50th Anniversary series, the cars help commemorate the 50th anniversary of Shelby American's FIA World Championship win.
While the cars are new, they will be built around the blueprints and measurements of the original Shelby Cobra Daytona Coupe. Consequently, they will look essentially identical yet thanks to some improvements, will be safer and offer more performance.
Underpinning the cars will be a period correct tube chassis with leaf suspension like the original also featured. Additionally, a wooden rimmed steering wheel will also be a standout feature of the interior alongside a selection of components finished in black leather. Understandably, modern disc brakes will be fitted.
A fibreglass version is offered alongside an aluminium variant. Interestingly, the 50 units pinned for production will be created without drivetrains providing customers with the freedom to choose what engine and transmission they want.
Prices for the fibreglass car start at $179,995 while the aluminium version is priced at $349,995.
[showhide]
Shelby American Announces 50th Anniversary Cobra Daytona Coupe Series
50 total 50th Anniversary Shelby Cobra Daytona Coupes will be built
Authentic aluminum and updated fiberglass versions will be offered
America's only FIA Sports Car World Championship Celebrated
LAS VEGAS–(BUSINESS WIRE)–To celebrate the 50th anniversary of their FIA World Championship, Shelby American, a wholly owned subsidiary of Carroll Shelby International Inc. (OTC Pink:CSBI) will offer a limited series of continuation Shelby Cobra Daytona Coupes. Only 50 cars, available in either aluminum or fiberglass, will be built. Both versions of the car will debut at California events in August 2015.
"The Shelby Cobra Daytona Coupe helped a small American team beat a racing giant," said Joe Conway, Co-CEO of Carroll Shelby International and CEO of Shelby American. "The tenacious Shelby American team fielded six sleek Cobra Coupes against the Ferrari juggernaut, winning the FIA Sports Car Championship on July 4, 1965. That is still the only time that an American team has captured the crown. To celebrate that achievement, we're launching a limited series of anniversary cars that bring the legendary Shelby Cobra Daytona Coupe back to life."
With only six original Shelby Cobra Daytona Coupes built, the racecar became one of the most coveted vehicles in the world. Worth millions of dollars each, ownership of one is almost impossible.
"After the success of our 50th anniversary edition Shelby Cobra big block roadster program, we were bombarded with requests to offer a limited edition Daytona Coupe that celebrated this important milestone," said Keith Belair, Shelby American Chief Operating Officer. "We spent the last year carefully planning an aluminum car that is faithful to the six built during the 1960s. In addition, we developed an anniversary edition fiberglass version that is true to the spirit of the Coupe, but reimagined as if it had remained in production over the years."
A combination of the 50 total specially badged anniversary Shelby Cobra Daytona Coupes will be built. This is the first time that Shelby has offered an aluminum continuation Daytona Coupe.
Each aluminum Coupe (serial numbers CSX9950–CSX9999) incorporates safety and performance improvements without sacrificing integrity, as they were built from original blueprints and measurements. Since each original competition car was slightly different, Shelby American chose one specification for the continuation cars that best represents all of the Coupes.
From the leaf spring suspension and tube chassis to the wooden rimmed steering wheel, the cars are period correct. While a variety of exterior colors is available, each will come equipped with a premium black leather interior, special badging, modern disc brakes and a stronger frame.
Each is a component vehicle that is built to order and can be finished by a customer or an authorized dealer; it is delivered as a rolling chassis. An aluminum block 289 c.i.d. engine that can include a Coupe's serial number is also available separately from the Shelby Engine Company.
"The legend of the Shelby Cobra Daytona Coupe is amazing," said Gary Schechner, Shelby American Vice President of Marketing. "When Shelby American began racing the lightweight Cobra roadster, they were dominant except on the high speed straightaways of the European circuits. Shelby American tasked Peter Brock with designing a sleeker body for the small block chassis. The result was one of the most radical and now, iconic, racecar designs of all time. Peter's design not only yielded greater top speeds, but also made the car incredibly aerodynamic and efficient."
Shelby American began work on the first Daytona Coupe (CSX2287) in Los Angeles during 1964. It quickly proved to be a winner, enabling Shelby American to dominate and win its Le Mans class that year and capture the International Manufacturer's GT Championship in 1965.
The fiberglass and aluminum cars will be unveiled at Gordon McCall's Motorworks Revival on August 12 and be displayed throughout the weekend at the Rolex Motorsports Reunion inside Mazda Raceway at Laguna Seca. An aluminum car will be displayed at the Goodwood Revival in the U.K. to help celebrate the anniversary of the FIA World Championship where the original Daytona Coupes will be reunited.
"Now for a limited time, a few more people will be able to enjoy a Shelby Cobra Daytona Coupe," said Conway. "Whether they choose an aluminum continuation car or fiberglass version, each anniversary Daytona Coupe will be issued a Shelby American serial number for documentation in the official Shelby American Worldwide Registry. This is a rare opportunity to snag a piece of performance history."
The price of the base aluminum Shelby Daytona Coupe, not including drivetrain, is $349,995. The fiberglass continuation cars start at $179,995, not including drivetrain. Information is available at http://www.shelby.com/daytona.asp or by calling (702) 942-7325. Shelby American will be accepting deposits on a first-come, first-served basis.
[/showhide]