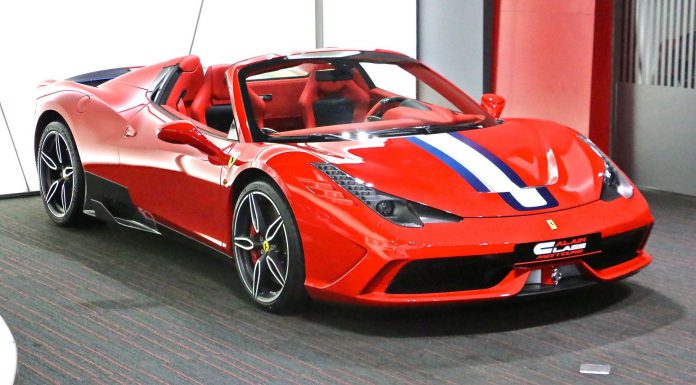 A gorgeous Ferrari 458 Speciale A is currently up for sale courtesy of Al Ain Class Motors in the heart of Dubai. As one of just 499 examples produced, the Speciale A just so happens to be the rarest fully-fledged variant of the potent Italian supercar ever offered.
The Speciale A is particularly important in the history of Ferrari as it is likely to be the final ever mid-engined Ferrari to use a naturally-aspirated V8 engine. Consequently, it is inevitable that whoever purchases this example will see their investment rise in value in the coming decades. The Speciale A also happens to be one of the best handling and most driver focused cars ever produced by the Italian automaker.
This particular model is painted in Rosso Corsa and features white and gloss blue racing stripes running down its centre. It also includes carbon fibre side skirts as well as a leather interior combing dark red and black elements.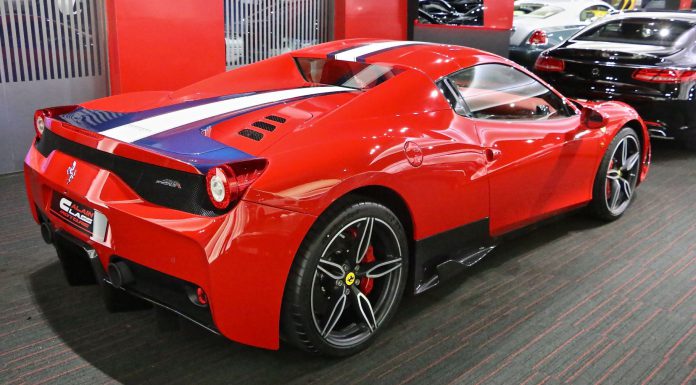 The Ferrari 458 Speciale A also features the most powerful naturally-aspirated road-going V8 engine ever built by the Italian marque. The engine, which might be the last naturally-aspirated engine that Ferrari ever builds, produces a colossal 597 hp and 540 Nm of torque at 6000 rpm. All this power means the Speciale A sprints from 0-100 km/h in just 3.0 seconds, the same as the Speciale Coupe, and has a Fiorano lap time of 1 minute 23 seconds, again identical to the Coupe.
[Via James Edition]