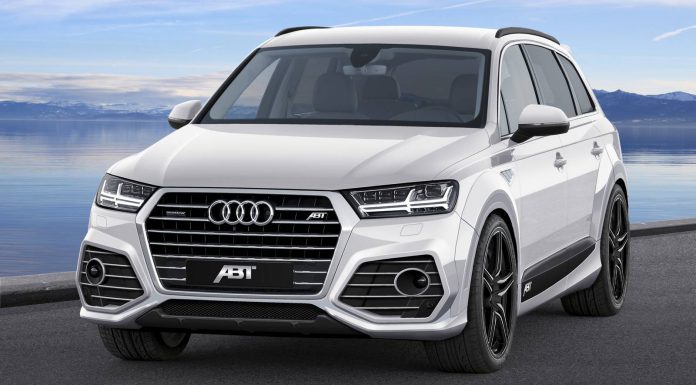 ABT Sportsline has just revealed its extensive visual package for the brand new 2015 Audi Q7. In typical ABT fashion, the bodykit isn't over-the-top and instead provides the luxurious German offroader with an added sense of purpose over the standard car.
The front of the ABT Audi Q7 includes custom air intakes as well as a new lower lip. When combined with the subtly flared front wheel arches, these simple visual modifications really exaggerate the width of the Q7.
ABT has also created new wheels for the Q7 which measure 22×10 at all four corners and come wrapped in 305/30 R22 tyres. These new wheels are complemented with slightly revised side skirts. The rear fascia of the Q7 has also received a makeover and now includes a subtle spoiler mounted to the roof, an eye-catching diffuser alongside quad exhaust tips.
Alongside these changes, ABT also offers a special widebody kit for the 2015 Audi Q7 to provide it with even more flair.
[showhide]
"ABT Sportsline 2015 – Press release CW27
An extensive visual package for the Audi Q7
King-size, princely comfort and being the innovation king: the new Audi Q7 with its 4WD has conquered much terrain in car testers' hearts right from the start. And the numerous technical features like the virtual cockpit have also gone down very well. ABT Sportsline has now come up with a fitting hardware package for the successful Q-type from Ingolstadt. "With our extension parts, we want to visually underline that the Q7 of the second generation is much lighter, more streamlined and sporty than its 10-year-old predecessor", says CEO Hans-Jürgen Abt.
The Bavarians' fine-tuning of the ABT QS7 includes a new front skirt, door strip attachments, fender inserts and an attractive rear skirt set with a muffler system. There is also an optional ABT rear wing, which lends the mighty SUV the aura of a sports car.
Measured across, a standard Q7 equals the size of a king-size bed, but at 2.5 x its length. If that is not enough, next to the standard package (consisting of the front skirt, door strip attachments and rear skirt set) ABT Sportsline also offers a wide-body kit, which will make the SUV the real "emperor of the motorway". It includes additional ABT rear and front fender extensions. The rear skirt set incl. muffler system can also be ordered separately from the standard or wide-body kit.
But no matter if you choose the small or the broad way of tuning for your Q7:
ABT Sportsline does of course have the right alloy wheels. For the market launch of the Q7 this is the dynamic FR design in 10 x 22'' with 305/30 R22 tyres. It goes without saying that the Bavarians are also developing engine performance upgrades for the new ABT QS7. Information will come in in due course."
[/showhide]