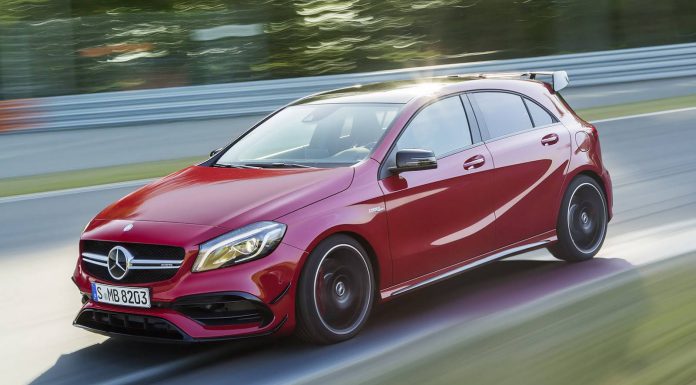 While the facelifted 2016 Mercedes-AMG A45 was only just revealed, it has been confirmed that the next-generation car will be even more powerful.
In the midst of speaking at the refreshed A-Class's recent world debut, Mercedes-AMG chief executive Tobias Moers revealed that the next A45 will be fitted with an entirely new four-cylinder turbocharged engine delivering over 400 hp.
As it stands, the facelifted Mercedes-AMG A45 pumps out 376 hp but Moers said such a figure is operating right at the limit of the engine. As a result, a new engine will be used in an effort to rival the upcoming Volkswagen Golf R400 as well as the Peugeot 308 R Hybrid hot hatch which in concept specification, delivers 493 hp.
Briefly discussing the next car, Moers said "It is important for our customers to have the most powerful car in the segment." He added to this by confirming the performance gains the next A45 AMG receives won't come simply through a larger turbocharger or tweaked ECU and instead said that the whole package will be updated.
Just a couple of days ago, it was confirmed that the Mercedes-Benz CLA45 AMG and GLA45 AMG models will receive the same upgraded engine as the facelifted A45 in coming months.
[Via Auto Express]