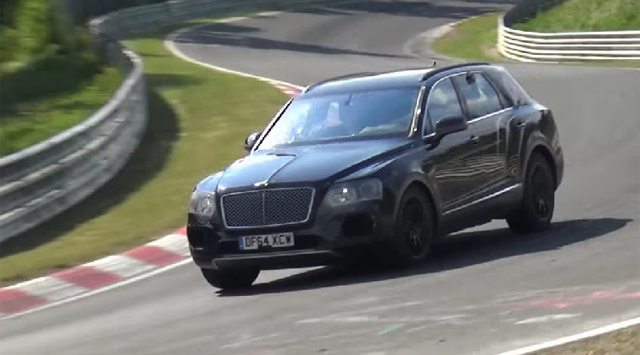 Despite the implementation of new speed limits at the Nurburgring, the Bentley Bentayga SUV is continuing to test at the famous German circuit. While the Bentayga aims to be the world's most luxurious SUV rather than the quickest and best handling, testing at the 'Ring' should help iron out any of the car's minor faults and issues.
[youtube]https://www.youtube.com/watch?v=V05DXcVnoYI[/youtube]
Engine options for the Bentayga remain far from confirmed but it is speculated that the firm's customary 6.0-litre W12 will be available as well as the twin-turbocharged 4.0-litre V8 alongside the diesel. That diesel is speculated to be the 4.2-litre V8 set to be available for the recently released 2015 Audi Q7. Additionally, a plug-in hybrid version will be available.
Not too long ago, it was confirmed that the bodies of the Bentley Bentayga will be built at the Volkswagen Group's Bratislava plant in Slovakia. Final assembly will then be handled by the marque's plant in Crewe, England.
Visually, it is obvious that the Bentayga will be characteristically Bentley with a prominent front grille. Hiding beneath the camo are also quad headlights as featured throughout the existing Bentley range.