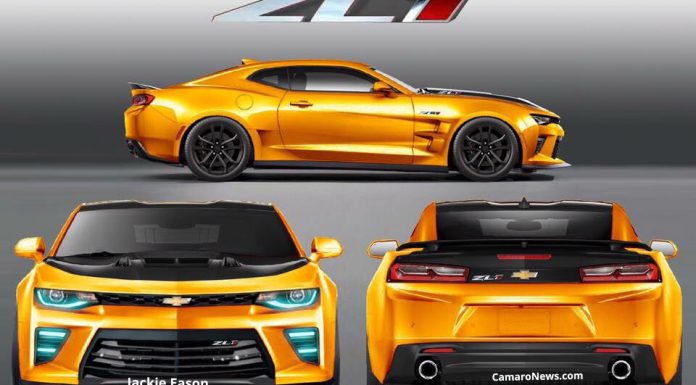 While only three variants of the sixth-generation Chevrolet Camaro have been revealed thus far, a range of other versions will be introduced in the near future. One of these is expected to be a new Camaro ZL1 aimed to take the fight to the Dodge Challenger Hellcat.
It is inevitable that Chevrolet is already developing a successor to the Z/28 to rival the new Shelby Mustang GT350 and GT350R models. A new Camaro ZL1 could feature more powerful than the next-gen Z/28 but be less focused on the track and more suited to everyday driving on the street. To give us an idea of how the car could look, Jackie Eason from Camaro News has created the following rendering.
Visually, it is inevitable that the new ZL1 will be significantly more aggressive and in-your-face than all other existing Camaro models. With that in mind, the model rendered features bold new front and rear bumpers as well as blacked out air intakes, a custom bonnet with a power dome, a subtle sixed rear wing, custom wheels and bespoke side skirts.
While it's impossible to know how the car will look if it is indeed created, it would certainly get our approval if it looked anything like this!