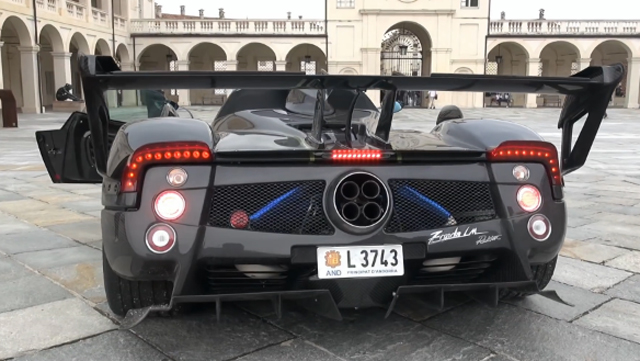 At the recently concluded Vanishing Point 2015, the Pagani Zonda 760LM Roadster was unveiled to the world. Registered in Andorra, the 760LM Roadster follows on from the 'standard' 760LM coupe and is the 13th example in the ever-expanding 760-series range of Zondas. Thanks to its screaming 7.3-litre naturally-aspirated V12 engine, it is little surprise why the 760LM Roadster sounds so good!
[youtube]https://www.youtube.com/watch?v=hDskSZqe1yA[/youtube]
As the name implies, the Pagani Zonda 760LM Roadster is essentially a drop-top variant of the 760. Consequently, it features unique headlights and modified carbon fibre front fenders like the coupe. Unlike the hard-top however, the 760LM Roadster doesn't feature a hood with large air extractors.
Elsewhere, the 760LM Roadster includes a complete gloss carbon fibre body. Lime green accents are then found on the bonnet, the outer rims of the wheels, brake calipers, and doors. All the same aerodynamic components of existing Zonda 760s are then featured. That means a prominent dorsal fin over the rear decklid, a Cinque-inspired roof scoop and what appears to be the same rear wing and taillights as the 760LM coupe.