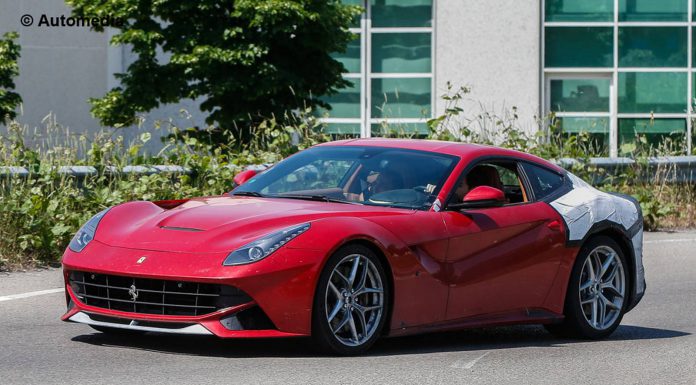 Following recent spy shots of the Ferrari F12 M, details about the new car from the Italian manufacturer have emerged.
Initially thought to be a facelifted F12, it has since emerged that the Ferrari F12 M could indeed be an even more performance-oriented version of the supercar in a similar vein to the 599 GTO. If these reports are accurate, there's a possibility the F12 M will receive a thoroughly modified version of the car's standard 6.3-litre naturally-aspirated V12 engine.
Typically, this powertrain pumps out 740 hp and 509 lb-ft of torque. In F12 M specification however, over 780 hp can be expected alongside a notable bump in torque. To complement the additional power, the hardcore Ferrari F12 Berlinetta will inevitable weigh less than the standard car.
While details remain unconfirmed, it is suggested that it could shed at least 110 kg over the standard car. It would therefore weight around 1415 kg and both handle and accelerate better than the existing model. Additionally, the upgrades could see the F12 M set a Fiorano lap time a full two seconds faster in the hands of Ferrari's capable test drivers.
The Ferrari F12 M is expected to celebrate its world debut at next March's Geneva Motor Show 2016.